Somerset, New Jersey, January 22, 2011

I received an email from SteveT earlier this week asking my opinion about a new bonefish reel. His old reel was good and he landed lots of fish with it last year when we pounded the flats in Hawaii but he was looking for something a bit more sexy--lighter, with a sealed drag and large arbor but not too expensive. I was going to the Fly Fishing Show in Somerset with Jin so I promised him I'd look at the new models to give him an idea of what's out there.


If this show is an indicator of the U.S. economy, then things must be getting better. More vendors, more displays and way more people were at the show. We started at one end of the exhibition hall and worked our way down the aisles then took a lunch break after we hit the half way point. After lunch we finished up checking out the booths in the other half of the hall.

THE REELS

I looked at a lot of reels. Some were made in the USA. Some were made overseas. But nearly every new model featured water-resistant or sealed drags.


I spent some time at the
Tibor Reels
table and looked at their new sealed drag reels. Tibor, known for their tough cork disk drags, introduced their first sealed drag model this year. The new reels have the familiar Tibor look and feel but there's a bit more machining on the frame--the once solid side plate is now ported on the upper half and the spool is removable using their quick-change feature, loosening a large lock-down cap to free the spool from the frame rather than using a screwdriver to remove a nut, drag knob, shaft and spring. The overall workmanship is flawless which is what you would expect if you're paying upwards of $700-plus for a reel.


I also played around with their smaller freshwater reels. The drags on these models aren't built to stop a blistering bonefish run but are engineered for general trout fishing. A smooth start up will protect tippets down to 7x.


I stopped at various booths and looked at reels from
Solitude
,
Sage
,
Lamson
,
Sea Level
,
Hardy
and
Orvis
but two reels stood out from the pack--
Hatch
and
Nautilus
. Both were exquisitely machined, beautifully anodized, heavily ported and extremely light. This is gear that says fondle me. Both reels feature sealed drags and both have reels designed for fresh and saltwater fishing. And besides the traditional colors of black and silver you can order them in eye-catching colors. The sealed disk drag mechanisms on both reels were anodized red and combined with a silver reel looked like the brake drum of a Porsche. The Nautilus featured interchangeable spools using the same reel frame so you could switch between a mid-arbor and wide arbor spool to give you the option of quicker pickup speed or more backing without buying a second reel.


But having a sealed drag doesn't mean it's maintenance free. Some said check it once a year. Others recommended removing the spool and rinsing the inside of the reel housing "after heavy use." But it's up to you to define "heavy use." Many added you could maintain the drag mechanism yourself but they would rather you ship the reel back to them if you need a tune up. And although a sealed drag mechanism will shrug off a dunking, they said you shouldn't leave your reel immersed in water for a long period of time.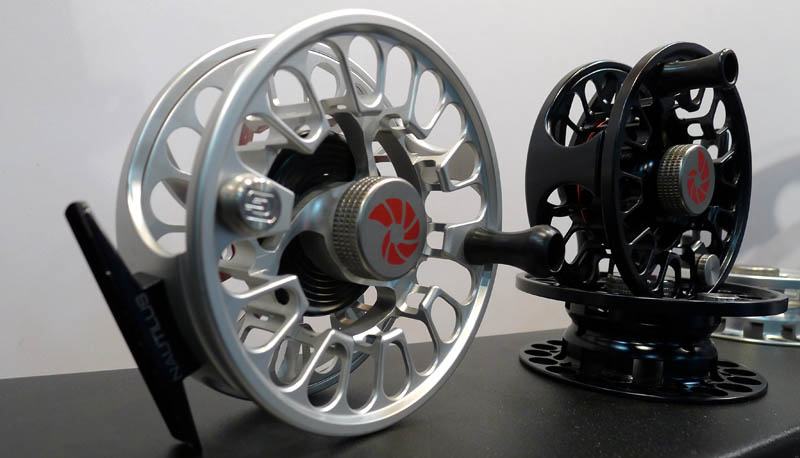 All the reels I looked at were great and most cost about as much or more than a high-end rod so they better look good. One of the representatives put things in perspective when he said, "How much drag do you really need for freshwater fishing?" For saltwater, "yes you need a good drag," but unless you're fishing in "an area with a lot of hot fish, you won't need a heavy drag for most of your fishing. BUT it's good to have a reel with a good drag, just in case you (hook up to) a big one."
THE RODS

It seemed like every major rod manufacturer had new models of spey and switch rods racked and lined for you to test cast at the pond but to me one of the more important offerings were the new line of value rods from
Sage
,
Winston
,
St. Croix
,
Ross
and
Echo
.

These rods are being marketed as introductory sticks, targeting the new angler or those that don't want to bust their bank account buying gear. For the price, these rods are pretty good. They'll cast fine in most situations--10 to 40 feet for freshwater fishing with saltwater models able to sling line out to around 60 plus feet for the average fishing Joe or Jane. Most of the rods fall into the medium-fast to fast category.

The difference is in the hardware. Cheaper reel seats, OK cork, stripping guides and wraps that are utilitarian rather than eye-catching. But the fish won't know.


Also out there were rods built with new technology. Lighter, faster and stronger than previous models. Especially interesting was the G. Loomis NRX line of rods built with a voodoo mixture of nano resin and silicas (whatever) that makes the rod strong yet light in the hand . If you want to lay some line out this is the rod to get. It's impressive.
BOOTS, WADERS and OTHER STUFF
Felt is on the way out. Rubber, in the form of Aquastealth or Streamtread, is in. All the major manuafacturers had a new boot or two featuring a rubber sole. But to me the best of the bunch was
Korkers
, who introduced a new line of interchangeable sole boots featuring, yet again, a redesigned way to remove and insert their soles.


This time I think they got it right. You don't need a tiny tool, which you always loose at the wrong time. And it's not messy--think walking in to the stream on a muddy trail using the hiking sole then trying to switch to the wading sole using the small tool. With the older models it was a hassle jamming the soles in. You needed the tool or a screwdriver. With the new Korkers you slip the toe section in, which lines up a set of locking lugs on the underside of the sole. Stepping down or pushing down on the sole locks them into the bottom of the boot. Slip the rubber heel strap over the locking knob on the back of the boot and you're done. Simple. Clean. Too bad I bought the older model last year.


There were some interesting camouflage clothing and accessories from
Simms.
They had a special edition camo G4 wader and a new camo hoodie which looked kind of cool if camo is your thing. They also had matching camo backpacks and a camo utility satchel. On the other end of the spectrum was their screaming yellow/lime and charcoal G4 wading jacket. I thought their orange model was bright. They will definitely spot you on the water if you wear this.

Patagonia introduced the new waterproof
Stormfront backpack and waist pack
that are built by using sonic weld seams so there are no stitch holes to seal. Both have waterproof zipper closures.


I was skeptical about the zipper closure but Bill Klyn of Patagonia demonstrated how tight the packs were by blowing them up with some air, zipping it shut, then attempt to squeezed the air out. The zippers work. If you seal the packs properly whatever is inside will stay dry. However one hassle is the tightness of the zipper. You have to make sure it's properly seated when you zip it shut or the pack will leak. This means you have to give it a bit of a yank to get the zipper zipped or unzipped, but Patagonia has designed a special toggle grip on the zipper tongue and this makes it a lot easier to grab and pull.

The waist pack features a clean, smooth exterior with a zinger to hang tools or tippet spools. There are two adjustable loops to attach a rolled up rain jacket or rod tube. The interior is large enough to hold three large fly boxes and a ton of other stuff you might need for a day of fishing.

The backpack has a great adjustable harness system with a removable interior three-compartment bag that can be used to haul camera gear, extra reels or your lunch. Like the waist pack, it features two adjustable loops to store a jacket or rod tube.

Simon Gawesworth
gets some tips from Jin on improving his roll cast Saturday afternoon at the Rio Products booth at the Fly Fishing show in Somerset, New Jersey.

There was also tons of celebrity fly tiers, authors, lectures, casting clinics and demonstrations. There were deals to be found on books, DVD's and on fly fishing equipment but you had to shop around and really know what you were buying.

Some items were a great buy, like a clearance on last years' Simms and Patagonia shirts, vests and waders at up to 40 percent off (lots of XXL and S sizes left when I looked). There were deals on fly tying equipment ($110 for a Regal clamp model) and materials but you had to know what you were buying because all hackle were not created equal. But the really nice thing about the Fly Fishing Show is just being there to see and touch the items and hopefully learn something that will make you a better angler.