Fletcher's Cove, Potomac River, Washington, D.C., April 18, 2021
A high water event triggered by a large rainstorm shut down rowboat rentals at Fletcher's Cove on the Potomac River in Washington, D.C., for most of the week. The "safe to rent" water height was reached on Friday afternoon, so boats were available for Sunday, when I was supposed to fish with Jin.

However early Sunday morning I received a text from him saying he won't be able to meet me at Fletcher's due to mild chills—a side effect from his second COVID shot. It was great news, now we were both totally vaccinated, but I was bummed that he wouldn't be able to make it to the rowboat.

I dropped the rock near a spot we fished a week ago. It was still dark, so I had to reposition several times until I was certain I was in the proper location just outside the bubble line of the main current. Water conditions still weren't that great. It was a sickly brownish green color, murky, flowing rather fast with lots of small debris floating downstream in the current.

I picked up a nice Hickory shad on the second cast, followed by a second then a third. However the action died and I did not pick up another fish for half an hour, until the sun began to peek over the trees.

Fishing picked up but it wasn't on fire like the previous week. Shad were hugging the bottom, understandable since all that junk floating through the water column would be a nuisance to fish trying to swim upstream. I would get 4-5 fish in quick succession, then the bite would die for 10-20 minutes before picking up again. I guessed small schools of shad were moving around and as they passes the rowboat I would pick a few off before they moved on.

I also caught several very large Hickories that put up a terrific fight. I could not lift some of the larger ones for a photo so it was a quick release at the side of the boat.

The fishing remained consistent through most of the morning and I called it a day as the tide peaked around 1:30pm.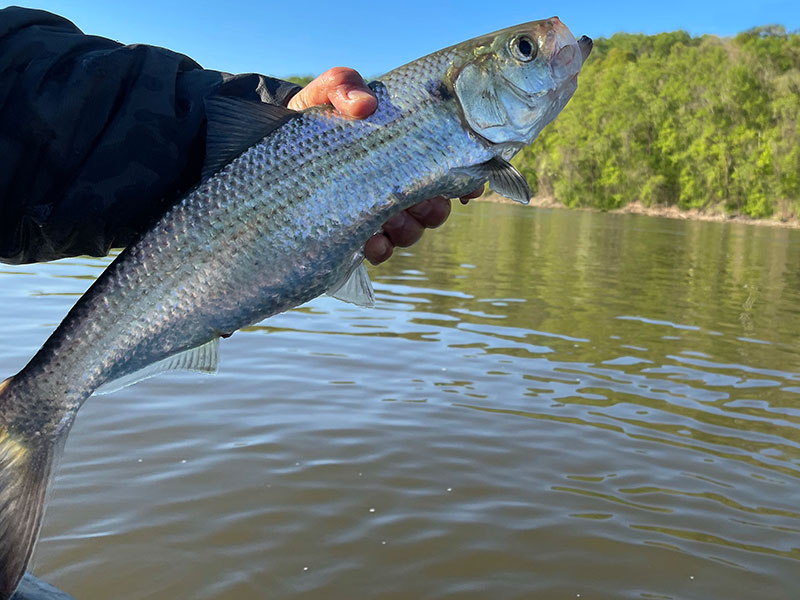 EQUIPMENT:
We use 8 weight rods, density-compensated full sink line, and flies in size 2 to 8 in various colors.


DIRECTIONS:
Fletcher's Boat House is located on the Potomac River in Washington, DC, two miles north of Key Bridge and one mile south of Chain Bridge, at the intersection of Reservoir Road and Canal Road. You will know you have reached the entrance to Fletcher's when you see a traffic signal and the Abner Cloud House, a white stone building, which is next to the canal and will appear on your left if you approach the area from Key Bridge/Georgetown, or on your right from Chain Bridge.


WARNING:
The entrance to Fletcher's Cove is a very narrow entry/exit ramp that can accommodate only ONE car at a time so be very careful. It is VERY difficult to negotiate this ramp if you approach Fletcher's Cove via Chain Bridge because it faces Key Bridge so you have to negotiate a difficult U-turn to enter. Park in the upper lot on your left or go through the tiny tunnel (clearance is 7 feet) to the lower parking lot and dock access.
During shad season the tackle shack opens at 6am. Rowboat rental is by reservation only via the
Boating In DC website
, however there might be a few available for walkup rental.
Rental fees are $28 for ONE HOUR, $56 for TWO HOURS, and $112 for FOUR HOURS.
A late return fee is $25 and you might be placed on a "do not rent" list. Prices are subject to change.
You also need a D.C. fishing license which is $10 for D.C. residents and $13 for non-residents.
MASKS AND SOCIAL DISTANCING IS MANDATORY.
WARNING ON WEEKDAYS:
Both lanes of Canal Road become
ONE WAY
into and out of the District during morning and evening rush hour during the weekdays. If you're hitting Fletcher's in the morning and following the route above you have until 5:30am to get there. If you miss this window you must wait until 10:20am because all traffic on Canal Road is one way into the city. Canal Road becomes one way going towards Chain Bridge from 2:30 to 7pm.