Pulaski, New York, December 6-8, 2019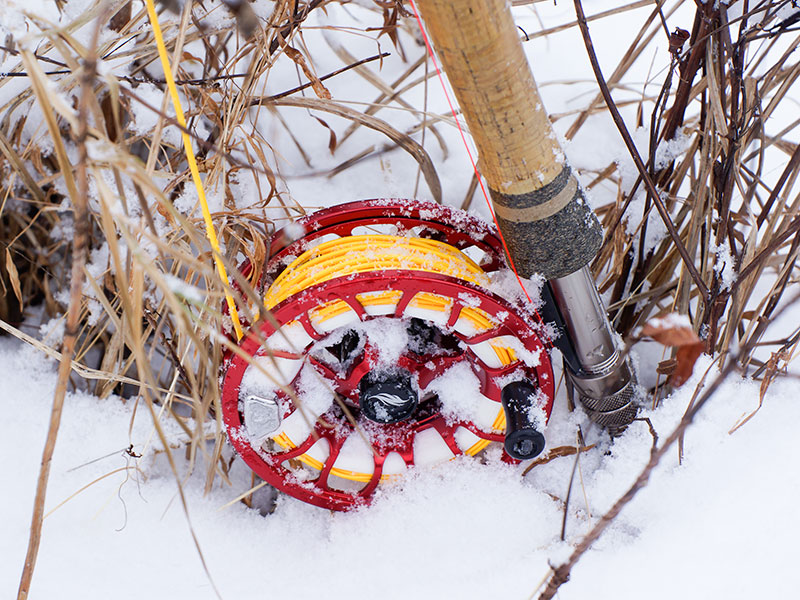 The text message from Salmon River guide Greg Liu was short and very to the point. "It's going to snow." I removed my stocking foot waders from my packing pile and broke out the
bootfoot
.

It was windy and very cold in the morning when Jin, Tom and I met guide,
Greg Liu
, at
Whitaker's
fly shop. We drove to the
Douglaston Salmon Run
to gear up as light snow began to fall.


The water was running about 550 cfs and there weren't as many anglers on the water as Jin and I encounter during out late November trip about a week ago. Bad weather had thinned the numbers, but there were still a fair number of hardy steelheaders at the DSR.

Due to the weather, and a falling temperature coupled with low water, fishing proved to be difficult. However I managed to hook and land a fish in a little less than an hour. It was hanging in slower water just outside the main current. At first I thought I was snagged on the bottom—the line did not move at all after I set the hook. But I guess the fish finally woke up and the fight was on.

The snow began to really come down as we searched for new spots to fish. The temperature dropped and line began to freeze in the rod guides as visibility began to drop.

To increase our chances, Greg placed us at various locations on the river. This worked out well because Jin and Tom managed to hook and land several fish.

The following day was a bit better. Snow had tapered off but the temperature was still low. Again, I managed to hook and land a steelhead about an hour into our fishing day. We moved down river to fish another spot as the wind began to pick up. Coupled with the low temperature, the wind chill made it feel like it was 14 degrees.

We fished for a while more, but as the wind picked up we decided to call it a day and head in.


DIRECTIONS:
Fly or drive. Most major airlines fly into Syracuse Hancock International Airport in New York or if you'd rather drive, from Virginia, use I-81 for a seven hour drive north to Pulaski. Our fly shop of choice is
Whitaker's
, about a quarter mile to the right of the main freeway exit.


EQUIPMENT:
Depending on the f
ishing conditions we use switch or spey rods lined with steelhead, skagit or mid-belly lines, heavy indicator lines, split shot, and a variety of egg patterns, streamers, and nymphs from size 2 to 12 to drift or swing through possible holding areas on the Salmon River. A suggestion: those switch and spey lines are much thicker than normal fly lines so be sure to have a reel large enough to accommodate the line. About 100 yards of backing should be enough.