Craig, Montana, July 12-16, 2019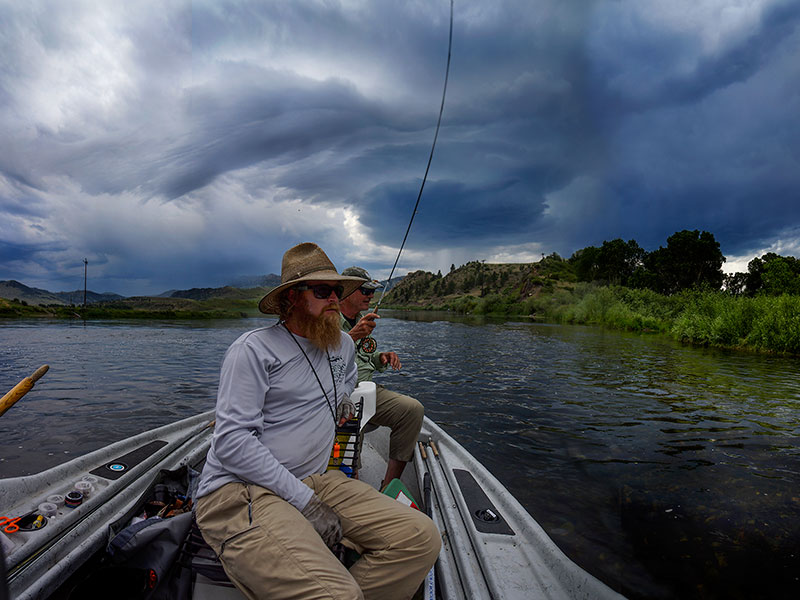 I've had my share of glitches that turned what was supposed to be a routine airline trip into a minor inconvenience. One year I spent the night in Dulles Airport after a flight was cancelled—better to stay there than sleep for two hours in a hotel then go through the luggage and TSA hassle again. In another, a pop up thunderstorm caused our group to miss a connecting flight, forcing us onto another flight to a different airport where we rented a vehicle and drove over 100 miles in order to make our drift boat connection the following day. But these incidents were not the norm and in my many years of flying it never amounted to much or caused a serious disruption during a fishing trip. Until now.

Due to family scheduling and work-related issues I did not join Jin, John, Tom, Bert and Stevie and the gang at Big Sky Anglers for the usual July trip. However Jin insisted I fly up to join them for the last few days on the Missouri River and would not take 'no' for an answer—backing that up with a ticket to Great Falls where they would pick me up Thursday evening after completing their day of fishing. I would fish Friday and Saturday, then our whole group would leave for home on Sunday.

I was sitting in the jet on Thursday in Washington, DC, early on a steamy afternoon. Everyone was strapped in and the door was closed. We pushed away from the gate, maybe 20 feet, when fat raindrops began hitting the plane and we jerked to a sudden stop. The pilot told us there were several lines of violent thunderstorms sweeping into the area and the ground crew was taking shelter due to lighting. The flight line was shut down. After two and a half hours passed, I knew I had just missed my connecting flight from Minneapolis to Great Falls.

I got into Minneapolis airport in the evening and was told they could not get me to Great Falls until 10pm the next day. That wasn't going to work. I got another flight on a different airline that would get me to a connecting flight in Denver in the morning, then to Helena, where I could rent a car, drive to Craig, and possibly fish in the afternoon.

The following morning the Minneapolis airport was jammed due to all the flight cancellations and rebooking. I sat at the gate and waited. And waited. And waited. Suddenly the 'On Time' sign for my flight switched to 'DELAYED' and I could hear folks muttering and several WTFs, one of which was probably mine. The airline could not find a crew that had the required number of rest hours to man our flight, so we had to wait for a connecting flight to land so that crew could transfer to our aircraft. My time to make my connecting flight to Helena was slowly ticking down.

When we landed in Denver the pilot asked folks who did not have a connecting flight to let us off first. As soon as the plane stopped, everyone stood up and grabbed for their carry-ons and just stood there. Thanks. I was sitting in the very last row at the back of the jet.

Of course, my connecting gate was almost on the other end of the airport. I made it with five minutes left until they closed the door and took off. But everyone was sitting around fumbling with their phones. I glanced at the window next to the gate and there was no jet. I thought I missed the flight, but due to weather, the incoming jet, my connection to Helena, was delayed.

We took off late and I made it to Helena around 5pm. I got a text from Jin saying they just got off the river, so I missed what was supposed to be my first day of fishing. One day left.

I looked for the car rental kiosk, following the signs. I found every national rental agency except the major brand I needed. I walked to the other end of the Helena airport but they were not there. Finally I asked an employee of their competitor and he said they were located off-premises, near the Walmart several miles from the airport. I had to call for a shuttle.

It was dinner time when I arrived in Craig. The boys were sitting down for their meal and I joined them, recounting my journey to the Missouri River. We were just about done when there was a knock at the door.

One of the guides, Greg Falls was standing there with his waders on. He looked at me and said, "C'mon buddy, let's go fishing. Right now." After spending the day rowing his drift boat, he drove up to take me fishing. I was blown away. I knew we were fishing the following day and told him he should get some rest but he insisted we go. So I went.

We were going to fish for a few hours just below the dam near the campground. Trout were actively eating on top but it was a bit too dark for dry fly fishing but not too dark to chuck a weighted streamer. I got six good eats and landed two before we called it a night and rowed back to the ramp. I thanked Greg for his generosity. Although it was a short trip, it was just what I needed after that airport hell I went through.

Bert was sitting at the dining table the next morning, going through the weather forecast. He looked up at me and said, "I'm so sorry." He turned his tablet around and a map was covered with huge blue, green and red splotches. The National Weather Service report underneath said severe thunderstorms, possibility of heavy flooding and hail up to one-inch. Gawd.

The plan was to fish in Greg's boat in the morning then after lunch I would fish with Joe Moore, one of the owners of Big Sky Anglers in West Yellowstone. For this last day of fishing we were floating from the dam to Craig.


We let a flotilla of plastic floats and drift boats clear out ahead of us first then hit the river. We got rainbows and browns on nymphs and if we saw risers we would pull over for dry fly fishing. The morning fishing was great and Fished hard to get my share. However as time ticket towards mid-day, the bite began to taper off as the clouds began to build.

I was in Joe's rig, watching Tom feed a fly to a rising rainbow, when the storm hit. We quit fishing, due to lightning, and buttoned up as the rain came down. However it wasn't as bad as expected and after a while it tapered off so we could get back to fishing. The severity of this storm, like real estate, came down to location, location, location. One of the guides, who was fishing miles from us, said he had to beach his boat and pump it out because rainwater filled it. Bert and Stevie barely made it to cover with other boats under a freeway overpass. They said the rain came down so heavy the freeway drains were going off like fire hoses.

We put away the nymph rigs and looked for heads for the rest of the float. Fish were spooky and finicky and my reach cast and overall dry fly presentation sucked. Maybe I was just overanxious, knowing it was my one and only day to fish and the day was quickly coming to an end. But I sucked. However I was fishing the Missouri River, and despite the storm, the heat, the uncooperative trout, it was great.


The next day, after Bert and Stevie began their drive home, we all flew out of the Bozeman airport without incident and landed in Chicago where we split up for our flights home. We were all leaving within 15 to 20 minutes of each other. Jin, John and Tom made it out on time. My effing flight was CANCELLED. The connecting flight never made to Chicago. I got a flight out early the next day to Norfolk, Va., then a connecting flight to Reagan National in DC. Crap. Another night. Another city. Another hotel.

I got to O'Hare early to beat the crowd and have a calm breakfast somewhere before my flight. At the gate, a small crowd had gathered. I heard muttering and saw the shaking of heads. The flight to Norfolk was delayed. I looked at the time I had to make my connecting flight. What had been almost a two hour window was now down to 30 minutes. But there was still enough time to make it.

We were taxiing on the runway after landing in Norfolk when the aircraft suddenly stopped. The pilot announced that because we were delayed, there was another aircraft sitting at our scheduled gate and we had to wait for it to leave. When I finally got off the jet, I sprinted to my departure gate. My 30 minute cushion was down to five minutes. However when I got there, I found out the flight to Washington had been delayed. The scheduled connecting flight was going to be very late, so they were going to use another aircraft that just landed but had to be refueled and cleaned. So we waited.

About an hour later the gate agent informed us that although the aircraft was just about ready, the captain decided the cabin was too hot and wanted it cooled down before we boarded. A truck with a huge air conditioner showed up and they proceeded to cool down the interior of the aircraft. The gate agent said it would only take 15 or 20 minutes to do this, then we would commence boarding.

Forty-five minutes later, the gate agent said the aircraft was just about cool enough for us to begin boarding. We just had to wait for the crew to disconnect a huge hose. Two people in front of me sighed, picked up their luggage and left. They had missed their connecting flights. I felt really sorry for them.

It was still pretty stuffy inside the aircraft but I was inside, in my seat and finally on my way home, with NO other connecting flights or possible f-ups, or blown schedules. Going home. The flight to DC was pretty rough and so was the landing. The pilot applied the brakes so hard I had to grab onto the seat in front of me. And because it is a small commuter-type aircraft, we had to park on the far side of the airport, on the open tarmac, then board a bus for the terminal.

I got to my office very late in the afternoon to pick up my car. I went upstairs to check on things and everyone wanted to know how the fishing was in Montana. After they heard my travel woes my boss told me, "Just go home. See you tomorrow."

It was a tough trip—travel for four days to only fish one day. But to fish with my friends, on one of the greatest trout rivers in the world, it was all worth it.

EQUIPMENT:
I used a medium action 9-foot 6 and 5 weight rods, weight forward lines and various dries and nymphs depending on the fishing situation. Because it was a short trip I only brought a small rolling carry on and rod tube. That was the best decision I ever made because if I had checked luggage, I would have been screwed.


DIRECTIONS:
Craig is a very small, unincorporated town in Lewis and Clark County, Montana, and sits right next to the Missouri River. It is located on Interstate 15 near the Wolf Creek exit, about 42 minutes from Helena or 52 minutes from Great Falls.