Fletcher's Cove, Washington, D.C., April 22, 2017
The low pitched hum rose in pitch as I twisted the throttle on the electric trolling motor to full speed forward, dodging between other boats loaded with anxious anglers who were also pulling away from the dock at Fletcher's Cove as the dim light of a cold, wet dawn broke over the Potomac River in Washington, D.C. A rowboat barely missed colliding into our stern, because it was hard to see where you were going if you're facing backwards while trying to row your boat forward. But as I turned around to steer our boat through the narrow channel, I soon wished I was also facing backwards and not looking at Jin, who was stuffing the last bit of a BANANA into his mouth.

I heard a person in another boat say, "What the Hell!" when he saw Jin and the banana. Another was shaking his head. PaulC, aka "Bass Master," in another boat, asked me if Jin knew what he was doing. Yep, he knew.

"I even have one for you too. In my bag," he said. Geez. Although he fishes, Jin does not believe in the awesome and lethal power of The Banana God. For centuries, anglers have attempted to avoid his deadly wrath. Charter boat captains have tossed whole lunches overboard when the yellow cylinders of bad fishing juju were discovered hiding beneath a layer of sandwiches or cold fried chicken. But here he was, munching on a banana as we cleared the cove and headed for our shad fishing location.

We rigged up and started to fish. The tide had just peaked and was on a downward swing. We fished for 15 minutes without a strike, then it started to rain so I zipped the jacket up tight and continued to cast.

I finally located a school of fish and told Jin where to place his fly. Both of us began to catch fish. The first three fish I caught were all American shad and Jin's first fish was also an American followed by a couple Hickories. However the action was not consistent. We would bang out five or six fish, then it would go quiet again for 10 to 15 minutes followed by a flurry of Hickories or Americans.

We pulled the rock and moved further up the Potomac and found an interesting seam. We began pulling in fish and the action was a bit hotter than our first spot, but there were still longish periods of no fish where all you did was practice casting and retrieving your line.

During one of those hot fishing section, when we were bringing in Hickories and Americans one after another, I broke my rod. Accidents happen when there are two people aggressively casting, playing or landing fish in a very small boat. I was playing a large American when my rod took a hit on the upper third, where it had a pretty healthy bend on it, and shattered loudly into three pieces. However I landed and released the fish.

I inspected the rod and it wasn't as bad as it looked. About 20 inches of the tip was still good, so I trimmed the shattered end flush with a knife then removed one of the snake guides. I trimmed up the other shattered end then matched up the tip section, cutting off about a half inch so the top end could slide into the bottom half for a snug fit. I lined up the guides then, with eight pound monofilament, I locked both pieces together with a tying
technique used to secure rod guides to rod blanks
. Jin was amazed that I could fish with the repaired rod. It still cast pretty good but I was unsure of how well it would hold together until I managed to hook and land a big American on the repaired rod.

The rain began to come down hard around 9:30am and it never let up. It wasn't a torrent of water, but it was still uncomfortable. And it was getting cold. One by one, the boats headed in and by noon there were only a few Fletcher's boats lined up along the main current seam.

Jin had to get home--one of those "be here at this time or else" request, so I dropped him at the dock. We ate lunch on shore and he showed me the other banana. He said I should eat it because "I needed the potassium." After he left I chucked the banana into the cooler and left it in the trunk of my car. No bananas on my boat. (Update: My wife used the offending fruit in a chocolate chip banana bread.)

I headed back to the main current seam and dropped the rock. It was still raining.
I had fished this spot before
but I wondered if the fish were still there. After three casts I found them.

The action was steady, the tide was on the rise and the banana was in the car. When I fished this spot a few days ago I caught lots of Hickory shad. This time it was predominantly American shad and some were very large. And, as I painfully found out, it was the large ones you had to be really careful with, especially if your hands are very soft after being wet and cold all day.

After a long give and take battle, I brought a very large American to the side of the rowboat. I held the leader tight in my right hand as I was tried to remove the fly with my left. Suddenly the fish flipped over and dove under the boat. The fluorocarbon leader was pulled swiftly across the first joints of my fingers, cutting them deeply. The American threw the fly and disappeared. I sat down in the back of the boat, holding my fingers as blood dripped on the seat.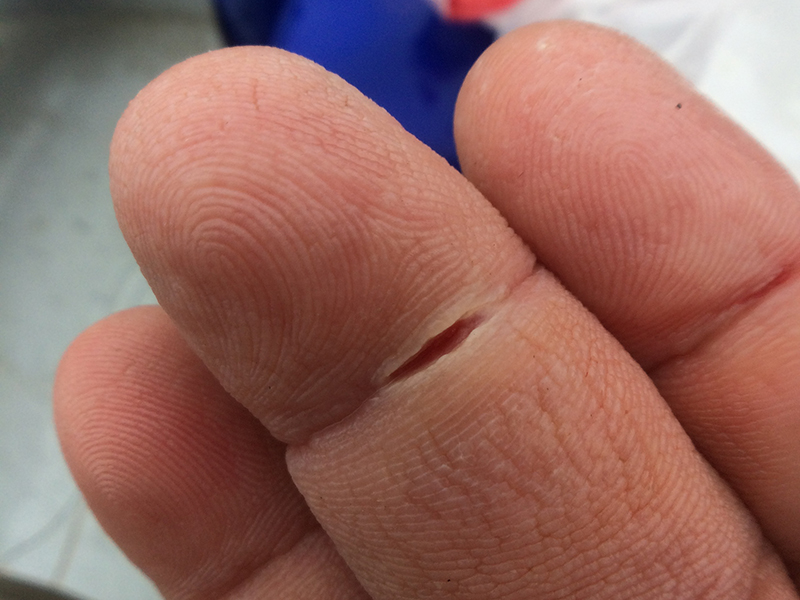 It hurt bad. Every time I moved my fingers, the cuts opened up and bled again. I watched a dead perch float past, belly up. With this rain, all sorts of things were being washed into the already not-so-clean Potomac River. A drop of blood hit the deck and disappeared, diluted by the rain. Time to call it a day and head for home to disinfect my fingers.


DIRECTIONS:
Fletcher's Boat House is located on the Potomac River in Washington, DC, two miles north of Key Bridge and one mile south of Chain Bridge, at the intersection of Reservoir Road and Canal Road. You will know you have reached the entrance to Fletcher's when you see the traffic lights and the Abner Cloud House, an old white stone building, which is next to the canal, and will appear on your left if you approach from Key Bridge, or it will be on your right approaching from Chain Bridge. The Fletcher's boat rental office usually opens at 7am, but when the shad sare biting hot and heavy they open earlier to accommodate anglers. You can get a D.C. fishing license and a boat at the rental kiosk. They also sell basic fishing equipment, bait, lures, hot dogs, candy, chips, drinks and ice cream.


WARNING:
The entrance to Fletcher's Cove is a very narrow ramp that can accommodate only ONE car at a time. There is a stop light and a small pull-off area where a car can wait for the light to turn without blocking incoming access. Use it! It is also very easy to drive past the Abner Cloud House, so be alert. And it is REALLY difficult to negotiate this ramp if you approach Fletcher's Cove via Chain Bridge because the entry ramp will be facing away from your direction of travel. There is NO RAMP facing Chain Bridge. Park in the upper lot on your left or go through the tiny tunnel (if you have anything on roof racks, I suggest checking the tunnel height BEFORE entering) to the lower parking lot and dock access.


WARNING ON WEEKDAYS:
Both lanes of Canal Road become ONE WAY into and out of the District during morning and evening rush hour during the weekdays. If you're hitting Fletcher's in the morning and following the route above you have until 5:30am to get there. If you miss this window you must wait until 10:20am because all traffic on Canal Road is ONE WAY into the city. You must use Canal Road via Chain Bridge in the morning and trying to make the u-turn into Fletcher's during rush hour traffic can really get the blood pounding! Canal Road becomes one way going towards Chain Bridge from 2:30 to 7pm, so you have to hang a sharp U-turn, in rush hour traffic, when you leave if you're heading towards Chain Bridge.