Fletcher's Cove, Washington, D.C., April 19, 2017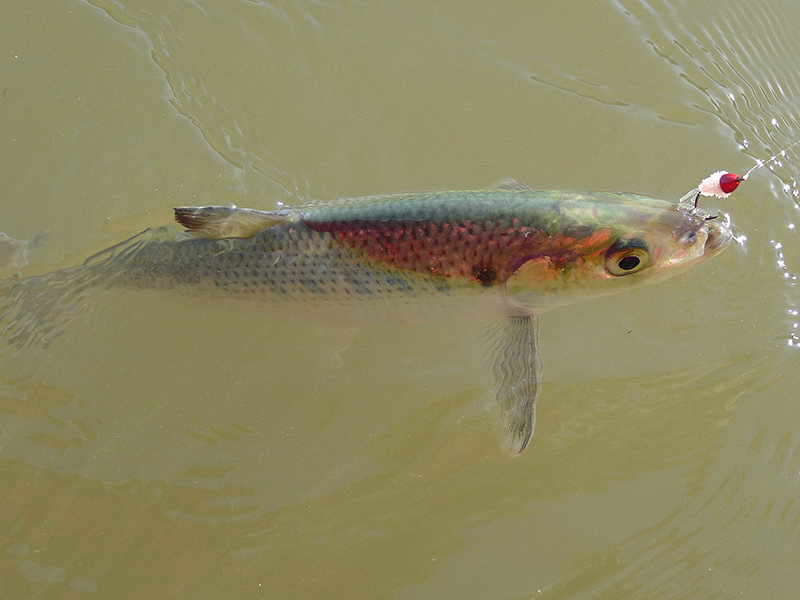 Overcast. A spattering of rain on the office windows. A gloomy day in the Nation's Capitol. But also a possibly good day to fly fish for shad after work.

I checked with the folks at Fletcher's Boathouse about the availability of boats. Shad fishing was hot, and if the waiting list was very long it wouldn't be worth waiting in line since I would only have, after getting the boat ready, setting up fishing gear and getting out onto the Potomac River to find a spot to anchor--three but more realistically two and a half, or maybe just two, hours to fish before I had to return the rowboat.

Alex answered the phone and told me there were three boats tied up and not spoken for. Of course there was the disclaimer--"The boats are here NOW, but I can't guarantee that they will be here when you arrive." I jumped in the car and headed across Key Bridge and onto Canal Road as the rush hour was building. I got lucky. I got a boat, but the rock anchor wasn't the greatest. But it was a better anchor rock that what was in the other two boats.

As I pulled up to the main current just outside Fletcher's Cove I saw that there was one rowboat with two fly fishers on board who were anchored directly over the seam where "Bass Master" PaulC and I had recently
hammered a lot of shad
. So I hit one of my fall back positions and dropped a not so heavy rock. Luckily it caught securely on the bottom and I could begin fishing.

I put the boat further into the main current than normal. Rather than have both sides of the boat to fish, I wanted most of the softer water to my left. This also put me in a favorable position to keep the fly line tight and straight without having to deal with different current flows.

I checked out the other anglers as I rigged up. Pretty quiet. Lots of people were fishing deep, but with this heavy overcast I figured the fish would be up off the bottom. I put out a cast and after a few seconds began to strip back to the boat. I got the line maybe a third of the way back when I got a strike. Shallow. After that fish was released I just kept on putting the fly in the same spot and kept on catching shad...mostly Hickories but with two or three Americans mixed in. Cast, retrieve, bite, play, release. Over and over. There were some quiet periods but overall the action was consistent throughout my short afternoon on the water. In the end my roughly three hour effort resulted in a catch of 87 fish. Not bad for a gloomy day.


DIRECTIONS:
Fletcher's Boat House is located on the Potomac River in Washington, DC, two miles north of Key Bridge and one mile south of Chain Bridge, at the intersection of Reservoir Road and Canal Road. You will know you have reached the entrance to Fletcher's when you see the traffic lights and the Abner Cloud House, an old white stone building, which is next to the canal, and will appear on your left if you approach from Key Bridge, or it will be on your right approaching from Chain Bridge. The Fletcher's boat rental office usually opens at 7am, but when the shad are biting hot and heavy they open earlier to accommodate anglers. You can get a D.C. fishing license and a boat at the rental kiosk. They also sell basic fishing equipment, bait, lures, hot dogs, candy, chips, drinks and ice cream.


WARNING:
The entrance to Fletcher's Cove is a very narrow ramp that can accommodate only ONE car at a time. There is a stop light and a small pull-off area where a car can wait for the light to turn without blocking incoming access. Use it! It is also very easy to drive past the Abner Cloud House, so be alert. And it is REALLY difficult to negotiate this ramp if you approach Fletcher's Cove via Chain Bridge because the entry ramp will be facing away from your direction of travel. There is NO RAMP facing Chain Bridge. Park in the upper lot on your left or go through the tiny tunnel (if you have anything on roof racks, I suggest checking the tunnel height BEFORE entering) to the lower parking lot and dock access.


WARNING ON WEEKDAYS:
Both lanes of Canal Road become ONE WAY into and out of the District during morning and evening rush hour during the weekdays. If you're hitting Fletcher's in the morning and following the route above you have until 5:30am to get there. If you miss this window you must wait until 10:20am because all traffic on Canal Road is ONE WAY into the city. You must use Canal Road via Chain Bridge in the morning and trying to make the u-turn into Fletcher's during rush hour traffic can really get the blood pounding! Canal Road becomes one way going towards Chain Bridge from 2:30 to 7pm, so you have to hang a sharp U-turn, in rush hour traffic, when you leave if you're heading towards Chain Bridge.