Yap, Federated States of Micronesia, Aug. 27, 2017

A report from Eric for mikescatchreport.com
I flew from Honolulu with a medical team to visit patients on the U.S. territory of Guam and islands in the Federated States of Micronesia--Yap and Palau. It would be a very hectic trip but if we had some free time, we planned to do some fishing wherever we happened to be.

We had patient clinics on all the islands. It was an especially busy week in Guam for my team and we could not wait to go over to Yap and possibly do some fishing because we had one day free before seeing more patients for the rest of the trip.

We got to Yap island Saturday night and had a good rest. On Sunday morning we gathered all our gear and headed down to the southern tip of the island.

The tide was down and the water was warm. We walk through a clearing to the beach where there was a deep channel that looked like a man-made boat harbor. It rained a bit as we started to cast into the end of this channel, catching some smaller fish. However CraigO caught a good size barracuda and a nice red lip snapper.

We made our way out to the breakers to see what we could catch. As I stood on a rock casting a popper a nice blue fin jack grabbed it and bolted for the open ocean. I put pressure on the fish to stop it from taking too much line and after a good fight I finally brought it in.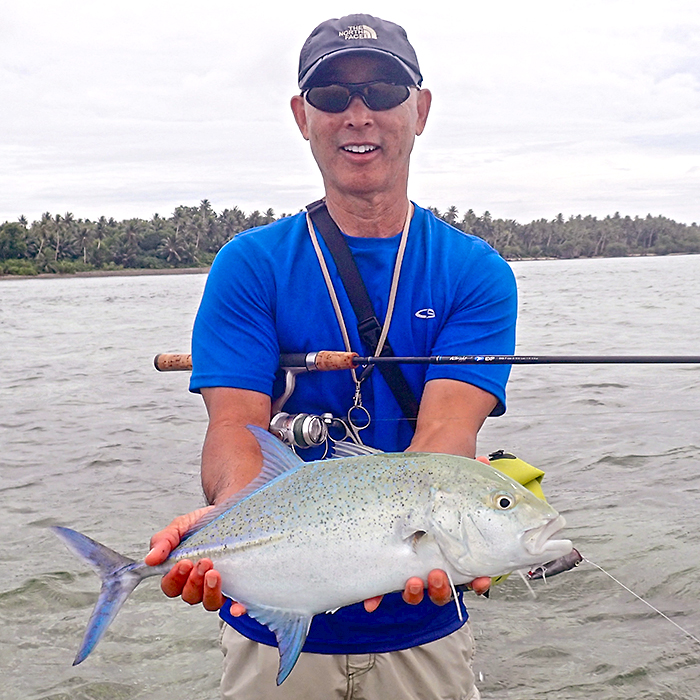 CraigO and I continued to fish this spot and caught more blue fin and white jacks and a variety of snappers and other fish species from this area.

We made our way back in to shore as the tide started to rise and I decided to fish the deep channel and hooked into, and lost, something really big that I could not stop.

After a bit more fishing we called it a day and took two jacks and a snapper back to the hotel for dinner.