Honolulu, Hawaii, July 20, 2015
When I'm visiting the Islands I'm on the flats chasing bonefish every day. Last year, towards the end of the trip, I had a problem with the cork grips on my 7 and 9 weight. I don't know if it was caused by excessive use or because the grip never got to dry out thoroughly but tiny chunks were falling off as I was fishing and several of the rings were loose. I was pretty frustrated because I had similar problems with both rods in 2013 and both were replaced with what I thought was premium cork grips from a very reputable supplier. Now I had to replace the full wells grips on the 7 and 9 AGAIN. However this time I would try something different.

Winn
is company known more for manufacturing golf club grips but in 2013 they began manufacturing unique full wells and reversed half wells polymer handles on
Redington's Vapen fly rods
. I read the reviews and I knew some anglers didn't like the synthetic look but I like to try new things and after going through two sets of "premium" cork handles I was ready to try polymer.

Eric builds
big game Trevally
shore sticks and custom fly rods so I sent him two Winn grips and matching fighting butts for my Sage Xi2 7 and 9 weights. In a few days he had them installed and ready to fish.

I took the 7 weight out and fished with SteveT and SteveL at one of our favorite locations. Casting with the synthetic grip was comfortable and there were no issues with slipping when my hand was wet due to the deeply engraved "fish scale" pattern. I had already hooked and landed a bonefish but when I was playing my second fish an hour later the polymer fighting butt tore off as I was applying sideways pressure. I managed to land the
oi'o
but the fighting butt was toast. It tore at the top and the rest of it just pulled off when I had it braced against my body. I ordered another fighting butt in the afternoon then lined up the 9 weight.

I fished the 9 weight for over two weeks and there were no casting or comfort issues with the grip. Like with the 7 weight before its unfortunate accident the Winn grip was comfortable to hold and cast even when my hand was wet or covered with slime from a trumpetfish that sucked up the fly. Other anglers liked the look and feel of the grip and there were no comments about the lack of cork on the rod.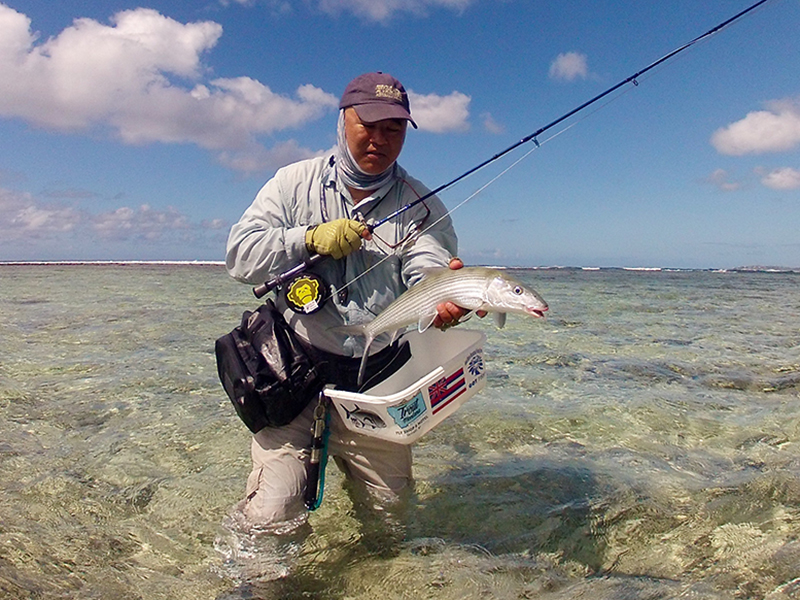 When the replacement arrived Eric attached the new fighting butt onto the 7 weight and we fished it hard for almost a week, hooking and landing many bonefish with no equipment incidents. After using the grips for weeks on the flats I am sold on their durability, comfort and cast-ability. The look of synthetic polymer may not be appreciated by all anglers but if you need a grip you can depend on under harsh conditions try the Winn grip.


EQUIPMENT:
I used Sage Xi2 7 and 9 weight rods outfitted with Winn grips.


DISCLAIMER:
I am not affiliated with Winn grips or its subsidiaries. I selected and paid for all materials installed on the rods used in the article. I am not the representative of any fly shop, outfitter, fishing equipment manufacturer or their entities. I have not received and will not accept compensation, payment or free gear for my comments or opinions.