Honolulu, Hawaii, May 6, 2014

A report from SteveL and SteveT for mikescatchreport.com

SteveT was slaying those fish today. He hooked five
oio
to my two. A seven
oio
day!

We went out at dawn. The tide was very flat, just hovering at half a foot all morning with almost no wind. We saw a few fish cruising the flats so it looked promising.

I drew first blood with a nice five pounder that broke the first stripping guide on my rod. And I didn't hook another fish until two hours later. All the while SteveT was pulling in
oio
after
oio
,
weke
(Goatfish) and
nu nu
(Pipefish). SteveT was "da man" today.


SteveT added, "I forgot to mention one of my
oio
was so small i didn't even think I hooked an
oio
." It never got into the backing and must have been 10 inches long at most. SteveL came over as I was unhooking the fish and it was so small I begged him not to photograph it. So embarrassing!

And I also had this huge puffer fish follow me around for the longest time. It keep circling me like I was a pier post or something. It got so close I was able to nudge it with my leg. Funny, the same thing happened to me about a month ago. I think it was the same fish and it kept trying to eat my fly so I had to keep pushing it away.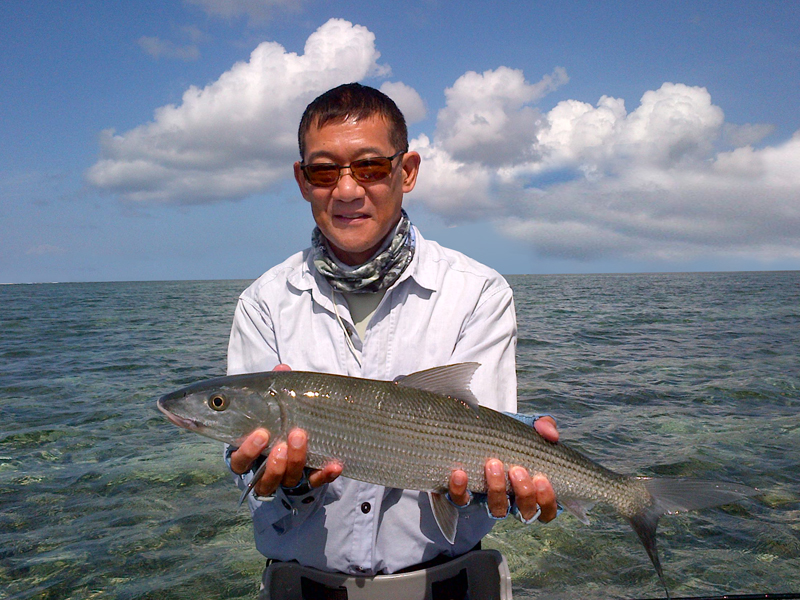 EQUIPMENT:
They used a fast action 8 or 9 weight rod and floating lines with an aggressively tapered leaders and heavy tippet.