Washington, DC, April 25, 2014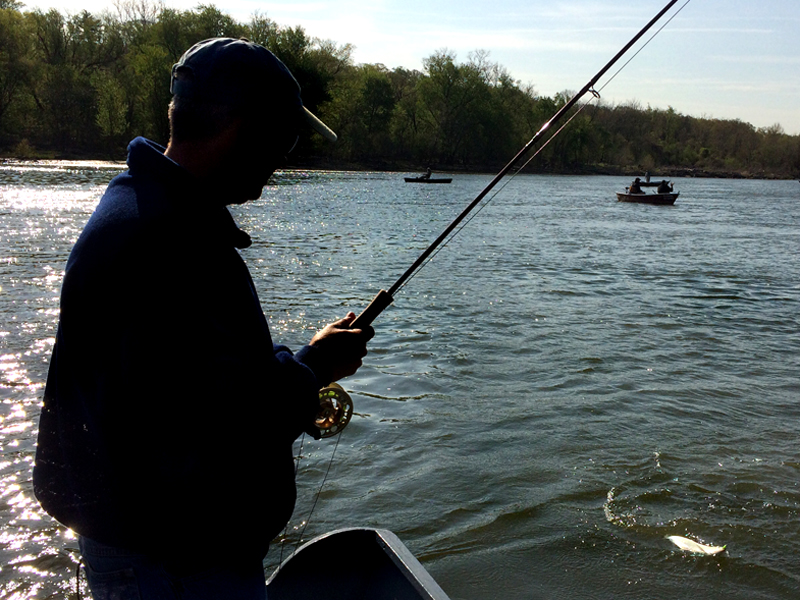 Mr. C told me he was here, at the dock at
Fletcher's Cove
at 5am, because he wasn't feeling well. And, indeed, I noticed that something was very wrong with him.

He was panting heavily, his eyes were watery and his nose was moist. Or was that Alex's dog that I petted at Fletcher's tackle shack this morning? I can't remember the specific details of our spontaneous meeting but I've been fishing long enough to recognize Shad Fever when I saw it. And since Mr. C told me this was his first try at fly fishing for shad from a Fletcher's rental, I told him to just grab his fishing gear and join me in the boat.

We anchored just outside the bubble line and I took a look at Mr. C's gear. He was well equipped with an
Orvis 8 weight Access rod
and an Orvis Type III sink line (I prefer and use an old
Orvis Generation 3 300 grain Depth Charge line
) which meant he would have to let his line soak a little longer to make sure he gets his fly down deep where the shad live.

I helped him rig up, gave him some casting and presentation instructions, then turned him loose on the shad. Mr. C has fly fished before and things worked out pretty well. Although the fishing action wasn't "on fire," with a shad on every cast, it was steady enough that when you began to reach the point of boredom and your attention began to wander, a shad would tug on the line and the sudden rush of adrenalin and fish slime would yank your concentration back to what was important--boating more shad.

Mr. C hooked into some really nice Hickory shad and fought an American shad that leaped about head level before spitting the hook next to the boat. I told him I considered that fish caught because we both saw it and by spitting the hook it was a clean catch and release move.

As the tide peaked later in the morning the fishing action died out. We stuck around and hooked a few fish now and then but soon I had to head for shore and to the office. We both hauled in one more fish, then reeled up and called it a day.

On the ride back to the dock, as we cut off and stored shad flies and reeled up lines, Mr. C told me he was feeling a whole lot better.


EQUIPMENT:
I usually use a 6 and 7 weight rod and a Type VII density-compensated full sink line. Shad flies in size 2 to 8 in various colors.


DIRECTIONS:
Fletcher's Boat House
is located on the Potomac River in Washington, DC, two miles north of Key Bridge and one mile south of Chain Bridge, at the intersection of Reservoir Road and Canal Road. You will know you have reached the entrance to Fletcher's when you see the Abner Cloud House, an old white stone building, which is next to the canal, and will appear on your left if you approach the area from Key Bridge or on your right from Chain Bridge.


WARNING:
The entrance to Fletcher's Cove is a very narrow ramp that can accommodate only ONE car at a time so be very careful. It is also very easy to drive past the Abner Cloud House, so be alert. And it is REALLY difficult to negotiate this ramp if you approach Fletcher's Cove via Chain Bridge because the entry ramp faces Key Bridge. There is NO RAMP facing Chain Bridge. Park in the upper lot on your left or go through the tiny tunnel (if you have anything on roof racks, I suggest checking the tunnel height BEFORE entering) to the lower parking lot and dock access. During shad season the boat rental office opens at 7am, but when the season is hot and heavy they do open earlier. Boat rental fee, plus tax, is $26 for the day. You need a D.C. fishing license ($10 DC resident and $13 non-resident) to fish and you can get them at the Fletcher's rental kiosk along with fishing equipment, bait, hot dogs, drinks and ice cream.


WARNING ON WEEKDAYS:
Both lanes of Canal Road become ONE WAY into and out of the District during morning and evening rush hour during the weekdays. If you're hitting Fletcher's in the morning and following the route above you have until 5:30am to get there. If you miss this window you must wait until 10:20am because all traffic on Canal Road is one way into the city. You must use Canal Road via Chain Bridge in the morning and trying to make the u-turn into Fletcher's during rush hour traffic can really get the blood pounding! Canal Road becomes one way going towards Chain Bridge from 2:30 to 7pm, so you have to hang a sharp U-turn, in rush hour traffic, when you leave.