Washington County, Maryland, April 5, 2014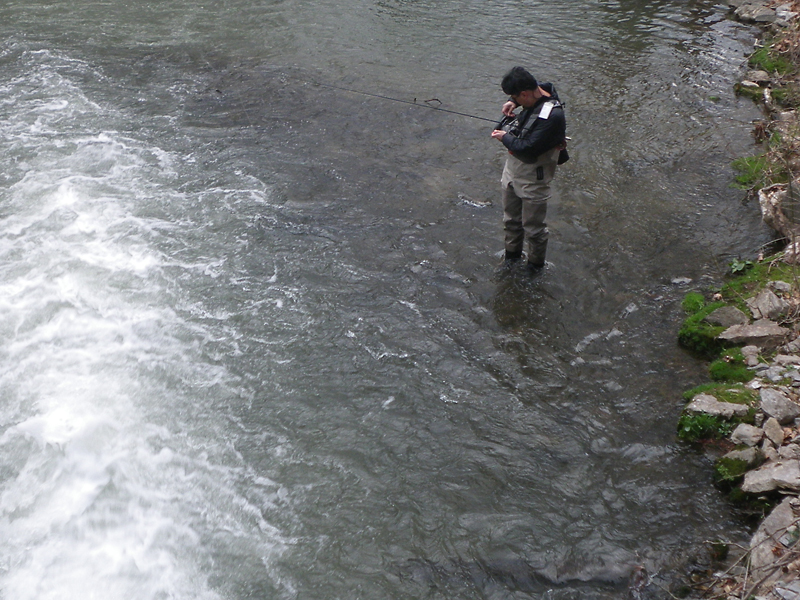 Jin was in town on some business but we both had the day free so he invited me to fish with him at one of our favorite spots on Beaver Creek.

The water was running a bit high and dirty after all the rain we've had in our area. This was going to be a heavy nymphing and streamer session. Jin rigged up with a Size 16 nymph while I tied on a rubber-legged, heavy Size 2 black wooly bugger.

We worked the fast water and Jin picked up a couple of fish quickly while I managed to hook and land what at first looked like a fat crappie but turned out to be a small Rock Bass.

We moved upstream and pounded the water with streamers. Jin hooked and landed a pig. I had several flashed but had no serious takes. Fishing was fun but by mid-afternoon both of us had to get back to the city. It was great while it lasted.



EQUIPMENT:
We used a medium and fast action 4 and 5 weight rods, weight forward lines and fluorocarbon leaders set up for nymphs and streamers.


DIRECTIONS:
From I-70 heading towards Hagerstown, take Exit 66 (Boonsboro) and turn left at bottom of ramp onto Mapleville Road (66). Continue down 66 and turn right onto Beaver Creek Road. About 100 yards past Beaver Creek Church Road on your right is the fly fishing parking lot. Follow the signs and instructions.