Bozeman, Montana, July 6, 2013

It was getting messy.

We were pulling out of Bozeman, Mont., and heading up to West Yellowstone with plans to fish the canyon area of the Gallatin River along the way but my nose was killing me. Something was blooming (the car was covered with pollen) and it was causing my eyes and nose to water and trigger spasms of uncontrolled sneezing. Luckily I managed to get some allergy medication from fellow angler Jack and that managed to get things settled.

We fished at several areas along the canyon section of the Gallatin. At one spot we watched a group of tourists on a whitewater adventure ride attempt to navigate through the fast water where we were throwing nymphs and streamers. One paddler was bucked from the raft right in front of Jin and Jack but the rest of the crew managed to muscle that person out before the raft even traveled 20 yards.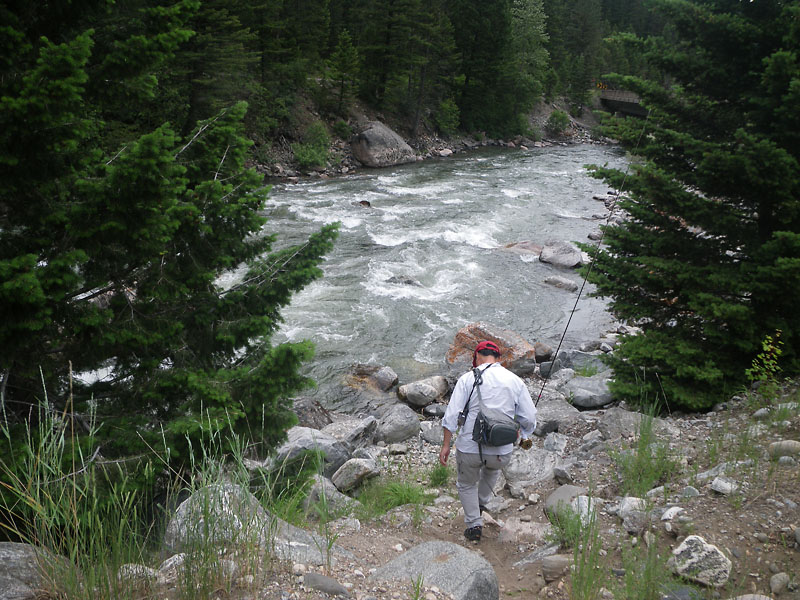 We didn't fish for very long at any of the spots we selected on our drive to West Yellowstone, but the last area we fished produced the most trout. Tom and Jack were pounding rainbows and browns. Jin hooked a really nice rainbow just upstream from me and I managed to haul a few in that were hanging out in the quiet water just off the main current.

EQUIPMENT:
We used fast action 4 and 5 weight rods with floating lines and gentle tapers. Leaders were 12 to 14 feet long with tippets measuring between 24 inches to three feet in length. Flies were in the size 14 to 18 range. It is best to stop at a local fly shop first to see what's hatching on the river.


LOCATION:
The Gallatin River is 120 miles long and is one of three rivers (Jefferson and Madison are the others) that converge near Three Forks, Mont., to form the Missouri River. The Gallatin begins in the northwest corner of Yellowstone National Park and flows through the Gallatin National Forest, eventually joining the Jefferson and Madison rivers near Bozeman, Mont. Highway 191 follows the river from the Wyoming border to just outside of Bozeman. The Gallatin River is renowned for dry fly fishing for rainbow and brown trout. Portions of the river are designated as a Blue Ribbon trout stream while the remainder is designated Red Ribbon by the Montana Fish, Wildlife and Parks Department. Parts of the movie "
A River Runs Through It "
were filmed on the Gallatin.