Honolulu, Hawaii May 27, 2013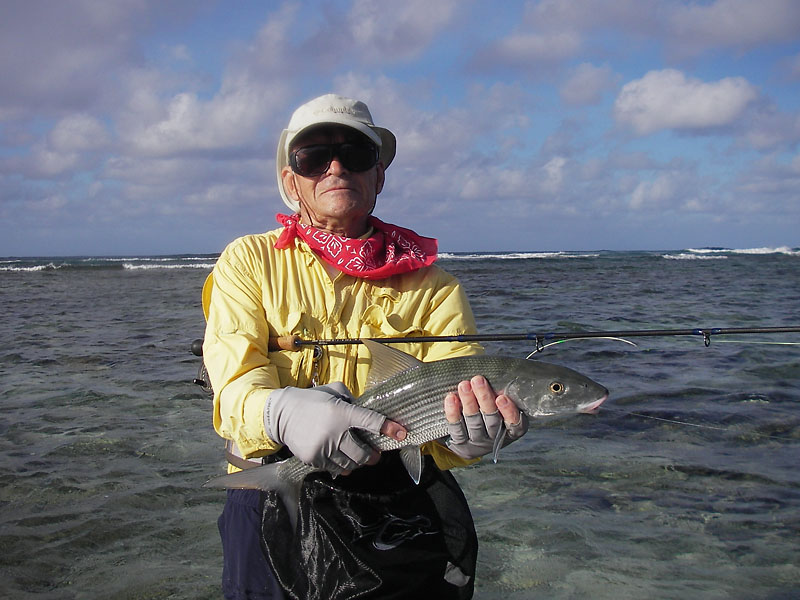 A report from Eric for mikescatchreport.com

I went out to fly fish for bones this morning with my friend, Doctor Robert.

We arrived at the flats around 5:30am. The sun was just beginning to rise and the tide was dropping from 1 foot, eventually bottoming out at 0.1(very low) around 12:30pm.

I gave the doctor a few pointers about casting in the right direction then set him up with a leader and a What-U-Call That Shrimp fly. We started to walk out and began to fish when we reached the middle of the flats.

It was slow and we had no takers for the first hour. I pointed him in the direction that I thought there was going to be fish but still no luck. Then I took him to
The Rock
and told him there should be someone home. He made two to three cast, then it was "Fish On!"

Line was flying off his trout reel and I told him he needed to palm the spool because the drag was locked down to the max. The
o'io
took off for the outer reef as we began to chase the fish.

His line got stuck around two or three coral heads so I untangled the line and told him to be ready to continue the fight if the fish was still on. Just as I undid the last wrap and freed the line, the fish took off. I saw that his leader was still in great shape, which is amazing after being wrapped up in the coral.

We finally got the fish in. This was his first big bonefish and it weighed in around 3 1/2 pounds. We made our way back to the park, washed off our equipment and sat around looking at the photos. He said he could now scratch a bonefish off his bucket list.