Washington, D.C., April 6, 2013

It was 4:30am and I was one of the first people to arrive at Fletcher's Cove. My wife said I was crazy to go fishing this early in the morning, but during shad season you have to get there early to claim a boat or you'll be stuck on shore watching the action. There aren't as many boats for rent as there used to be, so getting there early is a necessity.

After moving my stuff from car to boat, I parked and listened to the radio for half an hour as I waited for the show to begin. At 5am the curtain went up. There was a sudden pile of cars roaring into the lot and soon the area in front of the dock was crammed with anglers frantically unloading their equipment and rushing for a boat. Alex from Fletcher's opened the fishing kiosk and dock lockers and after paying the rental fee and filling out a form, I was motoring out of the cove and setting anchor just outside the bubble line on the Potomac River. As I sat in my boat rigging a 6 weight, I watched a steady parade of rowboats pull out of the cove and scatter across the water. By 6:30am, there were no boats left at the dock.

It was f'ing cold! I thought it would be warmer this time but I was glad I brought a fleece vest, heavy jacket and fleece gloves. I stripped out about 40 feet of Type VII fast-sink line and began to fish.

I got a couple, but the action was slow. I swapped out colors and found that they liked the pink ones best. The fish were also scattered across the water column. Some came deep but others would grab the fly as soon as it hit the water. Some were far from the boat while others were right underneath. There was no consistency to the location of the fish and I was constantly changing up the presentation to find fish. It was frustrating. I would hook a few and think I was dialed in, but then the bite would disappear. It slowed down even more when the sun came up and for most of the day it was hit or miss as far as finding a consistent spot to fish.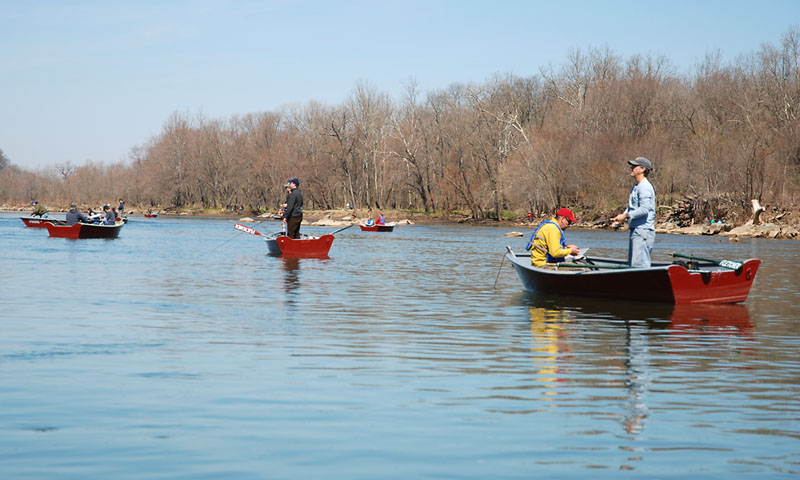 I changed flies often, but it always came back to the pink ones--and only those with the red conehead. The shad didn't like the other colors much so I stuck with the pink and I caught some fish. It wasn't on fire, like when shad season is in full swing, but I caught enough to keep things interesting. It always seems that just when you're ready to pull anchor and try somewhere else, a shad or two would bite, making you think that maybe moving to another spot was not such a good idea. Like the old fisherman always said, "Never leave fish to find fish." Or something like that.

By 2pm I had enough. I yanked the rock up and motored back to the cove, where the boat was quickly snapped up by an angler who had been waiting for two hours on the beach.

EQUIPMENT:
I used a 6 weight rod and a Type VII density-compensated (sinks faster at the front to prevent line sag) full sink line.


DIRECTIONS:
Fletcher's Boat House is located on the Potomac River in Washington, DC, two miles North of Key Bridge and one mile South of Chain Bridge, at the intersection of Reservoir Road and Canal Road. You will know you have reached the entrance to Fletcher's when you see the Abner Cloud House, an old white stone building, which is next to the canal.

From 66 East, take the Rosslyn exit to Key Bridge. Stay in the left lane. Take a left onto Canal Road after crossing over Key Bridge. Stay in the left lane and turn left on Canal Road, and continue until you see the Abner Cloud House on your left. That narrow ramp is the entrance to Fletcher's. Go down the ramp and either park in the upper lot or go through the tunnel to the lower parking lot and dock access. During shad season the boat rental office opens at 7am. Boat rental fee is $22 (plus tax $25.30) for the day. You need a D.C. fishing license ($10 D.C. resident and $13 non-resident) to fish and Fletcher's sells this at the rental kiosk along with fishing equipment, bait, hot dogs, drinks and ice cream.


WARNING ON WEEKDAYS:
Both lanes of Canal Road become
ONE WAY
into and out of the District during morning and evening rush hour during the weekdays. If you're hitting Fletcher's in the morning and following the route above you have until 5:30am to get there. If you miss this window you must wait until 10:20am. Once it's one way you must come down Canal Road via Chain Bridge in the morning and trying to make the turn into Fletcher's from that direction is a killer because that ramp is the only road into and out of the Boathouse parking lot and it faces towards Key Bridge. Canal Road becomes one way going towards Chain Bridge from 2:30 to 7pm, so you have to hang a sharp U-turn when you leave.