Cumberland County, Pennsylvania, May 27, 2012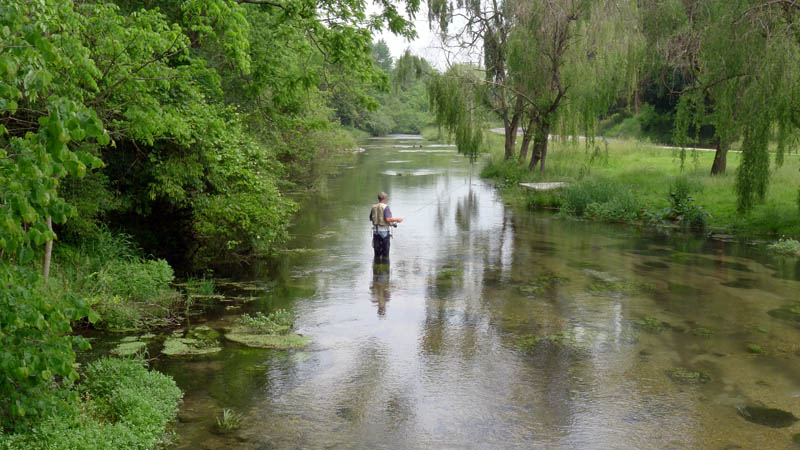 When
Tom Baltz
breaks out a 2 weight rod and a leader measuring 14 feet that tapers down to 6 or 7X, you know you're about to fish for some very difficult and educated trout. We were at Big Spring Creek, where fish get pounded on a regular basis. They've been there, done that, seen just about every fly you can think of. Throw in clear, shallow water plus a load of fly fishing anglers who are out to enjoy the long Memorial Day weekend and you've got a challenging situation.

Tom had tied up a unique scud pattern the night before and handed Jin and I a few before we spread out to begin fishing. He gave us some brief instructions on how to approach the fish--don't just walk up on them because they WILL spot you and scatter. He also told us not use an indicator because it spooks the fish when it slaps the water.

I stood on the bank near the parking lot and saw lots of fish. They weren't huge, but there were a lot of them. The trout were not feeding on the surface but you could see they were definitely eating something underwater because they would dart left or right and you could see the white flash when they opened their mouth to inhale food drifting in the current. I had Tom's fly tied on and began fishing to a trout that I estimated to be around 8 inches long. I made a cast and put the fly in the right spot for a drift down the feeding lane and as I watched, the fish spotted the fly and smoothly moved out of the way then finned back to its feeding position once the fly was clear.

Tom began fishing about 20 feet above me and soon hooked a fish. He moved off upstream and was picking off fish as he went. OK, we're both using fly rods, our reels have line on them, we're using the same fly, leaders and tippet are around the same length. Someone is really sucking here. I moved off downstream to fish a spot Jin vacated.

I counted over 20 fish moving in this area. I began fishing again and my results were about the same. I was in the process of swapping out the fly for something else, again, when another fly person walked up and asked how I was doing. He asked me what I was using and I told him that so far I used various scud and midge patterns but had no luck at all. He told me had tried the same patterns earlier in the day and had also had no luck until he switched to a
Sucker Spawn fly
. He showed me a pale cream-colored fly tied on a size 6 hook. "Hey, it works for steelhead so it should work on these fish too,eh?" he said. "Trout is a trout and...hey...it worked. I got eight fish on this fly."

For a moment I regretted leaving my steelhead fly box at home but the feeling quickly passed. The friendly angler moved off downstream and I went back to fishing for difficult trout. Watching the fish ignore the fly didn't bother me as much as when they'd charge over to the fly only to stop, give it a long look, then slowly swim back to their feeding lane. It was maddening. Maybe I should try something smaller. Maybe I should try something bigger. Maybe something with more olive in it or how about something with a thread body? Soon I had to tie on a new tippet because I had cut it back so much changing flies.

I passed Jin as I walked downstream and he wasn't having much luck either. We were throwing everything in the box and getting nowhere. I pushed through some high foliage and found myself on a very narrow section of the creek that was choked on both banks with thick growth but directly in front of me were two big rainbows tucked tight against the opposite bank. I threw a ton of flies at them but they wouldn't take. I watched as several nymphs drifted down, hit them on the head then drifted against their bodies before being pulled downstream. After half an hour I gave up and hiked back to the parking lot.

Tom was back from fishing upstream and he had caught a few. He gave me more tips about fishing this area and I watched as he hooked a few more trout before I moved off to continue fishing.

It was no better for me upstream. There were lots of fish, but getting them to take the fly was tough. Jin showed up later and was fishing 50 yards below me when I noticed a family with four young kids walking down the footpath along the stream. They were carrying lawn chairs and kiddie float tubes and I had a very bad feeling when I saw this. It didn't take long for the kids to jump into the creek about 30 yards below Jin and after putting out another cast he reeled up and joined me. He said when the kids began thrashing the water you could see all the trout from that area scattering across the creek.

Tom showed up and messed around in the water I had just fished, pulling out two trout. Something was wrong here and it had nothing to do with my equipment. It was hot and we were hungry so we packed up and headed for 'The Ditch' on Big Spring Creek.

After a pleasant lunch we began fishing 'The Ditch.' This is the first 1,000 feet of Big Spring Creek downstream from the source of the spring that feeds the creek. It holds sophisticated trout and super clear water where a blown presentation will send fish scurrying for cover. Long leaders and delicate casts required.

Tom nailed a fish above the bridge and Jin pricked a few. I wound up casting with an audience and managed to yank the fly out of the fish's mouth three times. It was tough fishing and after messing around with finicky trout we decided to move on to another section of the creek that Tom was familiar with to finish the day.

I tied on a size 18 Baltz parachute fly while Jin and Tom stuck with nymphs. Jin lost his nippers and forceps somewhere so I gave him my nippers. By doing this I was committing to the dry fly--no way to change to a different fly or switch to subsurface fishing. Paranymph or bust.

I quickly picked off a tiny minnow but followed that up with a nice brown. As I moved upstream Jin followed behind using a dry-dropper setup and also caught a few. I caught a few more fish as we moved up the creek but it suddenly began to get darker and the temperature began to drop. A storm was coming. We reeled up and walked back to the truck where Tom soon joined us. As we were breaking down the equipment the wind picked up and heavy rain began to fall. We ended the day at just the right time.


EQUIPMENT:
We used 2 to 4 weight rods, floating lines and very long leaders with tippets between 6 to 7X.


DIRECTIONS:
Big Spring Creek originates at a large limestone spring one mile north of Stoughstown in Cumberland County and flows 5 miles until it meets Conodoguient Creek near Newville. From Newville take West Big Spring Avenue and stay to the left and it will turn into Big Spring Road. This road runs next to the creek, which will appear on your right. Or follow I-81 and take exit 37. Go north on 233 for one mile then go left at the traffic light onto Route 11(Ritner Highway). Drive three miles then turn right onto Big Spring Road (State Route 3007) and follow it until you arrive at 'The Ditch.'