Potomac River, Washington, DC, March 16, 2012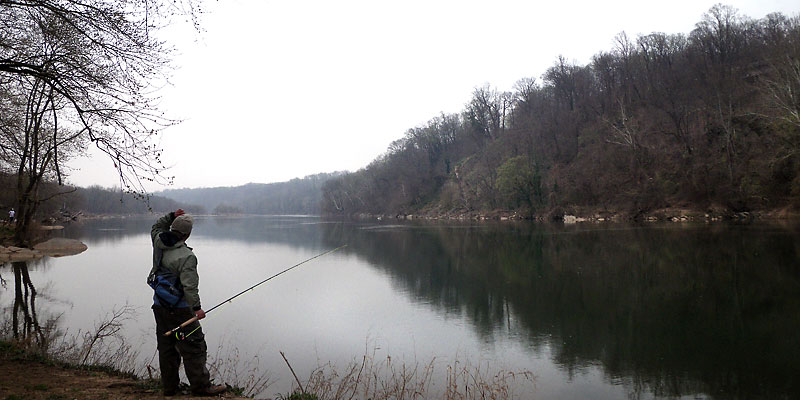 Reports of shad being caught near Fletcher's Boat House began filtering through the internet so I decided to complete two tasks at the same time--buy a DC fishing license at Fletcher's then see if it was possible to hook a shad.

The parking lot was nearly empty when I arrived. More important than that, all of the Fletcher's rowboats were still being painted or repaired. The worker said not much work had been done over the winter so they were busily patching and painting so they could get their certificate of operation then begin renting boats. I tried to pin down an exact date, but all he would tell me was "maybe late next week. It's best to call us first rather than just show up." I picked up a license then returned to the car to gear up.

I broke out a 13 foot 6 inch Beulah 8/9 spey rod lined with a 550 grain Skagit line then took off upstream towards Chain Bridge where there were a couple of spots among the jumble of rocks that put you pretty close to the main current line.

I tied on a really, really long leader and tippet. It was a good deal longer than what is normally used for this type of rod and line setup, maybe close to 30 feet. I used a hand-tied heavy leader with an aggressive taper that ended with 10 feet of 4X
Seaguar GrandMax
fluorocarbon tippet then tied on a size 6 conehead shad fly. This setup was tough to cast, but it got the fly out there and after hitting the water it sank deep quickly. The Skagit line and heavy part of the leader would turn over fine but the lighter line would loop up in the air above the fly then fall in a pile, the conehead fly hitting the water first and pulling everything straight down.

I made cast after cast, starting shallow and working my way down the water column. Finding the shad depends on the bottom structure, which in this particular spot was a bottom scattered with small boulders and about 60 feet deep, current, water clarity and the intensity of the sun. There was a heavy overcast, the water flow was minimal and the water was clear. I expected the fish to hold somewhere at or below 20 feet. I would make the cast, count the seconds then retrieve and start over again. I began getting bites between the 30 to 40 second count in an area just outside the bubble line of the main current. But with the tide at almost slack, the fishing was slow.

I swapped out colors to see if that made any difference but all they wanted today was white. I tried different sizes, but only the size 6 drew hits. This is what they wanted today. Tomorrow they'll probably eat something else.

The shoreline was uncrowded. There were lots of places to fish. But soon I had two bait fishermen tossing huge rods tipped with tons of lead setup about 15 feet to my right. Ten minutes later a spin angler, who had been fishing 50 yards below me, leaves his spot then sets up 10 feet on my left and begins tossing big
Kastmaster
lures. WTF! Enough. I went home.

DIRECTIONS:
Fletcher's Boat House is located on the Potomac River in Washington, DC, two miles north of Key Bridge and one mile south of Chain Bridge, at the intersection of Reservoir Road and Canal Road. You will know you have reached the entrance to Fletcher's when you see the Abner Cloud House, a white stone building, on your left.

From 66 East, take the Rosslyn exit to Key Bridge. Stay in the left lane. Take a left onto Canal Road after crossing over Key Bridge. Stay in the left lane and turn left on Canal Road, and continue until you see the Abner Cloud House on your left. That narrow ramp is the entrance to Fletcher's. Go down the ramp and either park in the upper lot or go through the tunnel to the lower parking lot and dock access. During shad season the boat rental office opens at 6:30am. Boat rental fee is $20 for the day. You need a DC fishing license ($10 DC residents. $13 non-resident) to fish and Fletcher's sells this at the rental kiosk along with fishing equipment, bait, hot dogs, drinks and ice cream.


WARNING:
Both lanes of Canal Road become
ONE WAY
into and out of Washington during morning and evening rush hour during the weekdays. If you're hitting Fletcher's in the morning and following the route above you have until 5:30am to get there. If you miss it you must wait until 10:20am. Once it's one way you must come down Canal Road via Chain Bridge then make that turn into Fletcher's. But it's a killer turn because that ramp is the only road into and out of the Boathouse parking lot and it faces towards Key Bridge. Some will back down the ramp! Canal Road becomes one way going towards Chain Bridge from 2:30 to 7pm, so you have to hang a sharp U-turn when you leave.