Boiling Springs, Pennsylvania, July 2, 2011
It was a beautiful morning in Pennsylvania. I met Jin and Tom at
The Run
but after some discussion about the quality of fishing we decided to try our luck on the Yellow Breeches at the Allenberry Resort.

We geared up and made our way to the water. As expected, there were already a few people fly fishing along the Breeches but we spread out and found a few open spots. I walked upstream, quietly and close to the bank. I fished here before and I knew there were trout holding in the not-so-fast water just a few feet from shore. After agonizing a few minutes over what to tie on I began fishing.

I started in close with a
size 16 ParaNymph
and on my second cast a fish took a pass at it but I set the hook too soon. Three casts later a trout rose to the fly, followed it, then dropped back down to the stream bottom. After that things quieted down so I swapped out to a smaller, size 20 fly, and it had several trout come up for a look but no take. I swapped flies again and went to a size 18 caddis and this time I lucked out and landed a brown. I had several more fish take a swipe at the fly but nothing stuck.

Jin was doing ok, hooking a couple of fish above me so I took to the trail and moved downstream and found myself fishing behind Tom. Tom is a
professional guide.
He's good. Really good. Fishing behind Tom is tough. Hell, fishing in front of him is tough. It's even worse when you're fishing in his water. The fish were there. Tom was catching them, but for me fishing was a continuation of what I experienced upstream. I had fish roll on the fly, look at the fly, snap at the fly and one ever jumped over the fly. I swapped out often. I found that if you made one or two drifts and the fish either rolled on the fly or looked at it, they wouldn't come back up no matter how many times you put the fly over them. You had one, maybe two chances to hook the fish and if you missed or they took a pass, forget it. Change to something else. I had the best luck with small size 20 caddis and the ParaNymph.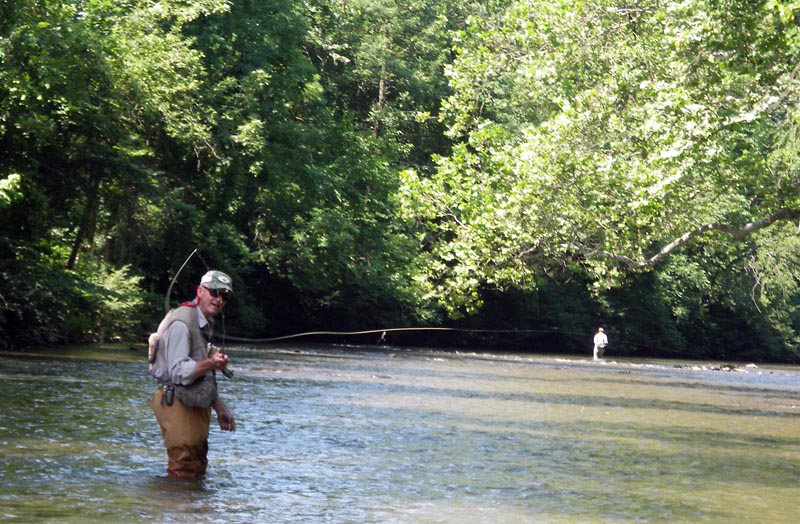 We fished for most of the morning then took a break for lunch at Analie's. Italian sub with everything on it. Jin and Tom were going to continue fishing for the rest of the afternoon at a spot Tom knows pretty well. I had to head home to take care of an old friend so I wished them well in the parking lot and took off for US 15 and home.

DIRECTIONS:
From Virginia, head up US 15 into Pennsylvania, past Gettysburg and other tourist attractions. Make a left turn onto US 74 outside of Harrisburg. The intersection is in a small town, with a Getty gas station across the intersection where you will make your turn, and a Wendy's restaurant on the left.

Follow US 74 until you come to US 174, an intersection with a large gas station/one-stop-shop on your left, across the street from a local graveyard. Turn left here and follow Boiling Springs Road one mile to Allenberry Resort and Inn and the Yellow Breeches. There is a parking lot for fly fisherfolk but keep in mind that the road leading to the parking lot is ONE WAY. You have to circle around the inn to reach the exit.


Analie's Ristorante and Pizzeria
at 6 Front Street in Boiling Springs (phone: 717-258-5070). Go past the
Yellow Breeches Outfitters
and hang a right at the intersection. The restaurant is a block away.


The Yellow Breeches at Boiling Springs--a long, long time ago.