Oswego County, New York, December 3-5, 2010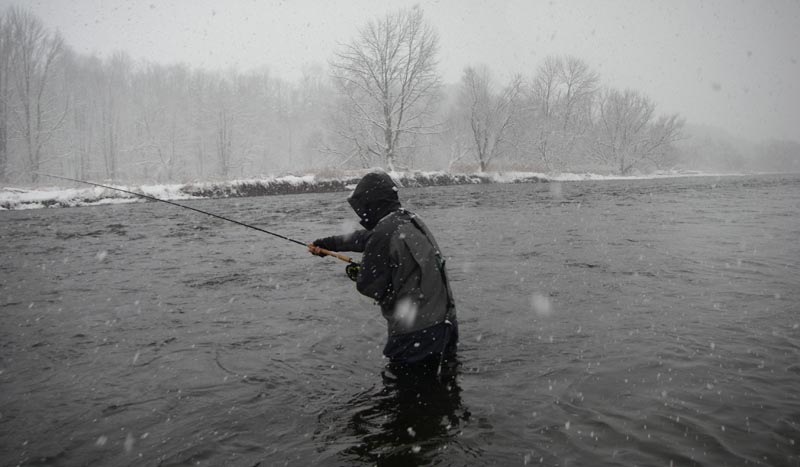 If people question your sanity when you're gearing up to fish in December, when the temperature on the water is so cold that you have to occasionally break ice out of your fly rod guides so you can shoot line, you must be a steelhead angler.

Jin and I arrived in Pulaski, New York, a day after a
lake effect snowstorm
blew through Buffalo, shutting down I-90 and stranding people in their cars for over 12 hours. We were here for steelhead and the weather was ideal--heavy overcast, low temperatures and snow flurries. We exited I-80 around 8am. A couple of Jin's friends were already on the
Douglaston Salmon Run
fishing with guide
Greg
so we stopped at
Whitakers
fly shop to pick up Joe, our guide, and head for the water.

When we met Jin's buddies they had already hooked a few fish and landed a nice steelhead. We were anxious to get a few too so we followed Joe about a quarter mile down stream and began fishing.

Jin was really pounding the brown trout. I lost track of how many he hooked and landed but it was a lot. He was swinging flies, methodically working the quiet water with his spey rod. I was also using a spey rod but instead of swinging flies I was using an indicator, shot and egg patterns to fish the faster runs and slots.

Joe split his time walking up and down the river between Jin and I, pointing out places we needed to hit and inspecting or changing out flies. He showed me a section of slower water between two fast moving currents that I needed to fish and after a few casts I had a take. I felt the tug as the indicator bobbed under the surface but the hook didn't stick. I set up another cast and hit the top section of the slot, feeding mends into the line and reset the indicator so the fly would drift into the same area where I had the bite. The indicator went down. The rod went up. The fish was on. I watched as it rolled to the surface before taking off down the river but it didn't go very far and soon we had it in the net. A very nice steelhead, bright and shiny.

We met the others for a quick lunch of hot noodles and sandwiches before we mixed the party up and headed off to fish other spots for the rest of the afternoon. I had a couple of touches on the line but nothing stuck and that was pretty much it for the day. Fishing was pretty good but unfortunately Jin's friends could only stay for this one day.

For the next two days Jin and I fished with Greg along various stretches of the Salmon River along the Douglaston Salmon Run. Jin continued swinging flies and ran up his score of large brown trout. I was tempted to switch lines and try swinging flies too and was actually standing in my room the previous night holding two spools of line in my hand--a
Rio Windcutter II
and the
Airflo Speydicator
line--but I decided to stick with indicator fishing so I stayed with the Speydicator line.

There are folks who will say using indicators and a spey rod is blasphemy. An abomination. I call it a tool that will help me hook a big fish. As advertised, the Speydicator line will turn over a huge indicator and a good amount of leader and tippet that can have as much as four shot attached above the fly. Pull line out until the black transition mark hangs outside the rod tip, do a slow Double Spey cast and you can shoot that junk attached to your line into runs and slots you couldn't hit with a single hand fly rod. The distance is also an advantage for me. I don't have to wade far from shore to hit the target. I'm not a great wader and being short, I get close to neutral buoyancy much faster than taller folks. Loosing contact with the river bottom is not a good idea when the Salmon River is flowing at over 1,100 CFS. It would be a quick and cold ride down to Lake Ontario.

The fishing improved every day even if the weather didn't. On the third and last day it was nasty, with another lake effect storm system blowing in. It was windy and cold but the fishing was hot. Jin hooked more browns but also got into lots of steelhead.

He hooked a lot and landed a few but that's fishing. I started off the day slow but towards the end I got my fish. It is probably one of the largest steelhead I've caught on the Salmon River.

EQUIPMENT:
We used 7 and 8-weight switch and spey rods with floating lines. Breathable waders with rubber soled boots studded with steel cleats, polarized glasses and a wading staff are mandatory for navigating the Salmon River. Also thermal layers, gloves and a good, waterproof, breathable rain jacket and cap.