Honolulu, Hawaii, August 17, 2010
I arrived at one of my favorite spots around 5:30am and slowly walked out into the quickly rising tide, stopping in knee deep water. It was overcast and some light drizzle was blowing down the valley and across the flats. As I stood there in the semi-twilight of the coming dawn I could hear the snap and pop of
pistol shrimp
as they went about their daily business. But off to my left I heard the distinctive slapping splash of a bonefish tail as it fed in the shallows.

A tail was waving in the air off to my right. I had a size 6 shrimp pattern tied on and I quietly laid out about 30 feet of line, at 2 o'clock. A nice cast. The fly landed with barely a plop. Too bad I lined a large school of bones that were just 10 feet in front of me under the surface. The water exploded with panicked fish zooming across the flats. You could watch the torpedo-like tracks they left as they quickly exited the area.

I had other shots, but at this point the fish were very skittish and none were interested in what I was offering. I walked the flats for the next few hours, blind casting into likely spots and drawing nothing but seaweed.

Just as I was about to leave a large group of people arrived towing three bright yellow kayaks and began working around some PVC poles that had been driven into the reef. I had assumed this was research work by the University of Hawaii or some other scientific body and the poles were
transect
markers. I walked over to see what was going on and one of the workers filled me in.

It seems that
an invasive algae
called Mud Weed (
Avrainvillea amadelpha
) had established itself on the flats and this group, called
Pono Pacific
, has been contracted to remove the weed. By hand.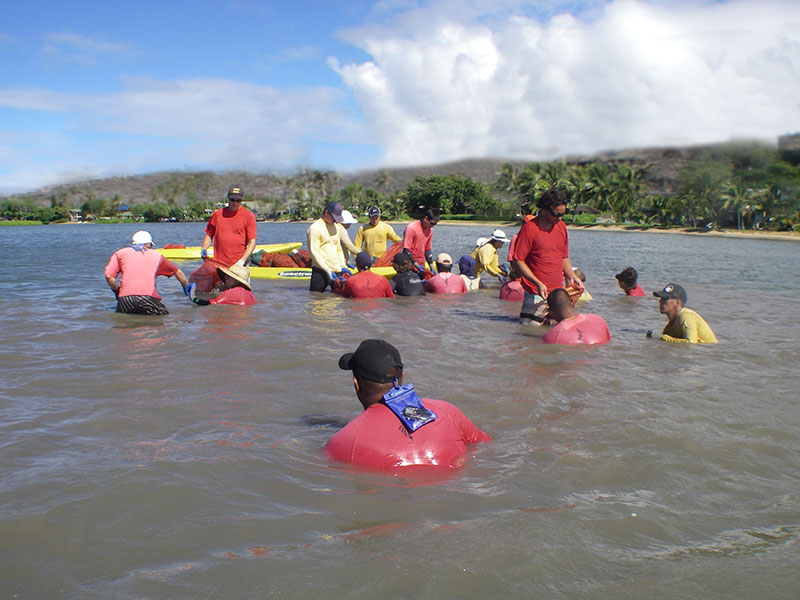 I watched as the workers pulled up handfuls of aquatic plant growth off the bottom and stuffed them into plastic sacks which were then loaded onto kayaks and taken to a removal point where other workers loaded the sacks onto trucks for disposal.

But one thing bothered me--the invasive algae was being removed along with the other stuff that was NOT invasive. A worker told me that their group can remove up to eight tons of weed a week, which was evident by the large swaths of bare reef bottom surrounding us. That's a lot of bottom cover that was once used by crab, shrimp and other reef creatures. Creatures that bonefish feed on. The worker even admitted to me that some of the algae goes to a farm to be used as fertilizer and that the sacks contain not only the invasive weed, but "lots of crab and shrimp too."

I watched as the group worked their way across a marked transect box, shoulder to shoulder, clearing everything off the bottom. They ripped up not only the Mud Weed but the native algae as well. They pulled up rocks off the bottom and picked them clean, dumping the rock back into water when they were done. It was not placed in the same spot they found it or placed right side up. Just tossed back in the water.

Something about this operation doesn't smell right. There is no supervising agent on site that has formal scientific training in aquatic biology. They got this grant from NOAA (National Oceanic and Atmospheric Administration) and the Nature Conservancy is involved as well as a few local conservation groups. But the scientific reasoning here seems a bit off. What seems to be happening here is they're burning down the forest to prevent a fire.

The workers told me without their work, the Mud Weed will choke out the native plants and will hold silt on the reef. So now, in some spots, there is no Mud Weed, no native seaweed, but the silt and sand is still moving onto the reef, and the bonefish have nothing to eat.

The worker claims the native plants should reestablish themselves--in a few years. Really? Unless they remove EVERYTHING associated with the Mud Weed, it will grow back again. And what prevents the Mud Weed that is growing in other areas up and down the coast from becoming established in the cleared zones. This whole project just does not make any sense. Smells like someone has a boondoggle going here--a very profitable one.