Chain Bridge, Washington, DC, April 23, 2010
I had a few hours to fish but renting a boat at
Fletcher's Boat House
wasn't worth the effort for such a short time. It was also very late in the day to be heading out to secure a prime shad fishing spot along the Potomac and although many people would think 9am wasn't really late, when you fish for shad many of the choice rocks that give you a clear cast to fish-holding water usually are occupied by 6am.

So with few options available I decided to go to a spot above
Chain Bridge
, just below Little Falls, where I tried to fly fish for stripers a few years ago. One of the problems associated with this area is the terrain. It's a jumble of huge boulders and smaller rocks that force you to carefully balance your way to the water. Breaking a leg or twisting an ankle here would be disasterous. The piles of rocks only offer a few accessable casting spots for most anglers and even fewer areas where you could do a proper backcast with a fly rod. The main current seam is a good distance from shore, hitable with a baitcaster or spinning reel but really difficult or impossible with a fly rod except from a few spots. Besides, at this time or the day all the good places would be occupied by a fly caster or a bait fisherman. However if a fly rod was not the proper tool and I didn't want to use spinning equipment it was time to haul out a spey rod.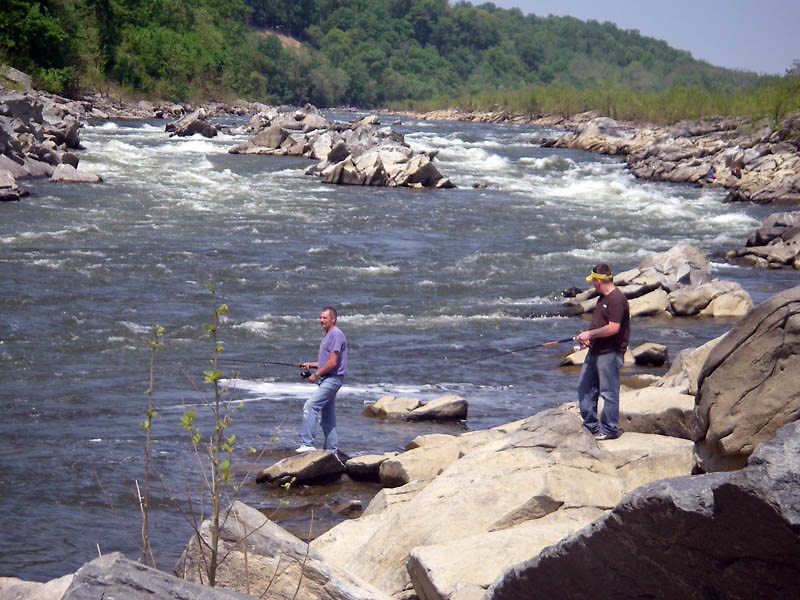 I pulled out a 13-foot 8/9 weight spey rod, a reel loaded with a
Rio Windcutter II line
and a box of shad flies and soon I was standing at the observation deck just above Chain Bridge. As expected there was a crowd already fishing along the DC side of the Potomac River. It was a free for all. If I were a warden in DC fisheries enforcement I would come here every day. I'd probably fill every citation book I could haul down to the river. People were catching shad with hand nets and throw nets. People were keeping shad. Lots of them. People were catching striped bass, lots of undersized striped bass, and keeping them. People were catching, keeping (and probably eating) catfish. Huge catfish. If any of them bothered to read their DC fishing license it says you
should not eat catfish
because of all the heavy metals and PCBs in the flesh of those bottom feeders. But did those folks have a license? Maybe. Maybe not. However I was there to fish, not be a warden.

Most of the good spots were already taken. Two fly rodders were casting away and other anglers had an assortment of spinning reels and baitcasters rigged with everything from
spinner baits
to chunks of
herring
or
bloodworms
. However an angler at one of the spots I was eyeing snagged his rig on the bottom and was forced to break it off. He lost everything and I guess he must have lost quite a few rigs on the bottom because he disgustedly threw all his gear together and quickly left. I just as quickly moved into his spot and began casting.

The water was ripping along this stretch of the Potomac. Not as fast as I've seen it but fast enough where shad would probably search out the quieter water that lay on either side of the main current. I tried to remember what
Salmon River guide Greg Liu
told me about spey casting last year and began flailing at the water. I threw casts into the main current to let the shad fly sink before it hit the prime quiet water. I had to force myself to slow down, because I was rushing the cast and not setting the line up right on the water. The
wind blowing from upstream
was also an issue and forced me to change my cast after I heard the fly go whistling past my ear. Close. Really close. Scary close.

After slowing down and getting into the proper frame of mind, casting became a lot simpler. Catching fish also helped a bit but shad on a 13-foot 8/9 weight spey rod was not that much sport. Although shad fight hard, it's not like having a
steelhead
attached to the other end of your line. The rod overwhelmed the fish. However lots of striped bass would soon be congregating in the water along this stretch of the Potomac and a spey rod equipped with
a sink tip
, fluorocarbon and baitfish flies might do the trick.

EQUIPMENT:
I used a 13-foot 8/9 weight spey rod and 14-foot leader tapering down to 5X with size 6-10 shad flies. I wore wading shoes with cleats and felt bottoms to grip the rocks.


DIRECTIONS:
Use the parking lot near Chain Bridge on the Clara Barton Parkway in Washington, DC. Walk towards DC then follow the sidewalk onto Chain Bridge. In about 50 feet there is a pedestrian walkway that will take you down to the C&O canal footpath. Follow the footpath ( a long walk) until you see a sign on your left directing you to the observation platform on the Potomac River. From the platform you hav to rock-jump to reach the water.
WARNING! This is an extremely dangerous area to fish. People die here every year. Do not fall into the water. The current is treacherous and will pull you under. If in doubt, don't fish here.