Craig, Montana, July 4, 2009
Flags, beer, barbque, beer, fireworks and beer. It was the 4th of July and preparations for a party were underway in downtown Craig as we pulled out of the parking lot for our final drift on the Missouri River.

I was fishing with SteveL again in Joe Moore's boat while Jin and Tom fished with Greg Falls. We were headed way down river today and would not have as much time to linger in any one spot for too long if we expected to get off the water at a decent time.

Fishing started off hot for me. I picked up a lot of trout in the first few hours before luck turned towards SteveL on the bow. The fish were hot and the takes were often vicious, putting an immediate bend on the rod as they ripped line off the reel.

After breaking for lunch we fished a short distance down river before we heard the ominous sounds of an approaching thunderstorm. The fishing had really slowed, possibly due to the change in atmospheric pressure, and as the first drops began to fall both boats pulled over to the bank and we geared up for a downpour.

The rain started slow but slowly built up into deluge. We were buttoned up tight in waders and jackets but Greg Falls broke out a large tarp and spread it out over his boat to protect himself, Jin and Tom from most of the rain. Every once in awhile Jin's hand holding his camera would pop out from under the tarp and shoot a picture of us sitting in Joe's boat so they could see what we were doing. The rain continued to pound down on us for about 10 minutes followed by a brief hail storm and cold temperatures but right behind all of this you could see blue sky and bright sun coming down the river as the storm system moved off.

After pumping the boat out we continued the float and the fishing picked up. I caught and landed a nice brown trout almost immediately after beginning fishing and it remained good for us for the rest of the day.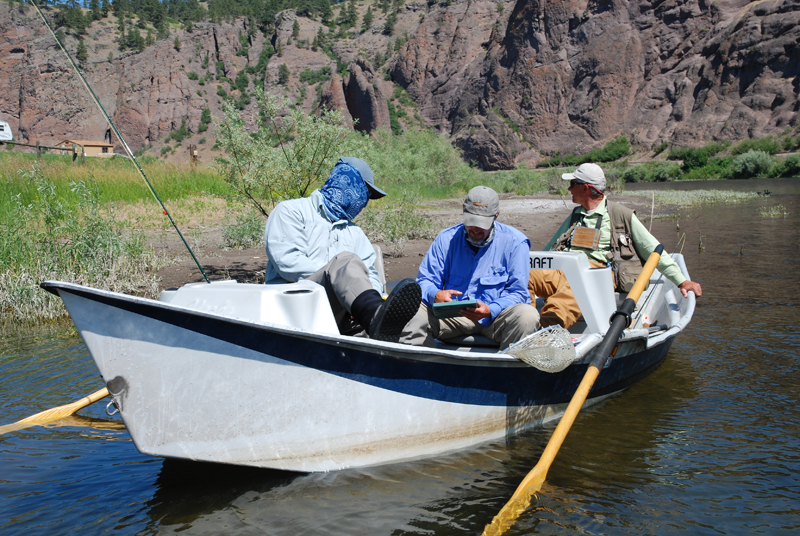 EQUIPMENT:
We used 6-weight rods, floating lines and fluorocarbon leaders for deep nymphing. Our dry fly rods were 5-weights with leaders and tippet that measured between 9 to 12-feet long.