Washington, DC, April 18, 2009
Perfect. Finally.
After two weeks of miserable weather shadders turned out in force on Saturday to do some serious fishing. The crowd on
Friday
was nothing compared to what I saw at the dock at Fletcher's Cove Saturday morning.

Paula the 'Dock Lady' warned me Friday afternoon to arrive early Saturday morning if I intended to snag a boat. Jin and I planned to be there around 5:30am so I figured there would be plenty of boats available. However when I arrived Saturday morning there were cars parked in a jumble in the offloading zone in front of the dock and there was a long line of anglers standing in front of the dock shack getting life vests, oars and a lecture from the 'Dock Lady'. By the time I unloaded the gear and secured a boat half the fleet was spoken for and many anglers were already
pulling oars or motoring out of the cove to stake out a spot on the Potomac. These were the hard core fishers and everyone knew this warm weather could mean the shad bite would kick into overdrive.

Jin and I motored out and luckily the spot I fished on Friday was open. We quickly dropped the stone and soon had lines in the water. It wasn't long before Jin had a strike but because he's been working long hours and is not getting enough rod time on the water he lost it near the boat. After the second fish flipped the hook Jin got serious and soon a nice shad was boatside. After that he slipped into a fish catching groove, hooking and landing a ton of shad. I didn't do so badly, but my hookup rate just couldn't compare. But we did pretty good compared to other boats around us.

As the sun rose over the trees I looked up and down the Potomac River and every boat from the Fletcher's fleet was strung out from the far point downstream to just past First Beach on the way up to Chain Bridge. It was interesting to watch the boats downstream because you could tell shad were coming as anglers hooked and fought fish. Closer and closer until you got a tug on the line.

Jin was using a lighter sinking line than what I was throwing and I think the slower presentation helped a lot. I was outfitted with a fast sink line (7-8 inches per second) that got my fly down to the bottom quick, but in slower water I think it got down too quickly. In the low morning light the shad were probably hanging midwater, off the bottom. Jin used a white shad fly with a red cone head and this was the killer pattern for the day. I threw an assortment of different flies and got good results with hot pink and chartreuse, but I also switched to the red/white shad fly after Jin landed his 15th shad (so who was counting).

The bite tapered off around noon so we took time out to motor back to the dock and refuel with hot dogs and Snickers bars. After a quick pit stop to drain the tank we were back out on the water to chase more shad.

The afternoon fishing was not as great as the morning bite. Things were really slow. The tide was out and at slack, so this probably put the fish off. We motored around and tried several other spots which produced a few fish but not in the numbers we had in the morning. A lot of people moved off the current seam and began fishing the quiet water closer to shore. Using the fish finder I marked shad in water as shallow as 11 feet, and although we caught fish it still wasn't as productive as fishing early during the rising tide.

We kept at it for awhile and even gave a short casting lesson to someone interested in fly fishing. But eventually the bite really died down so called it a day and headed into Arl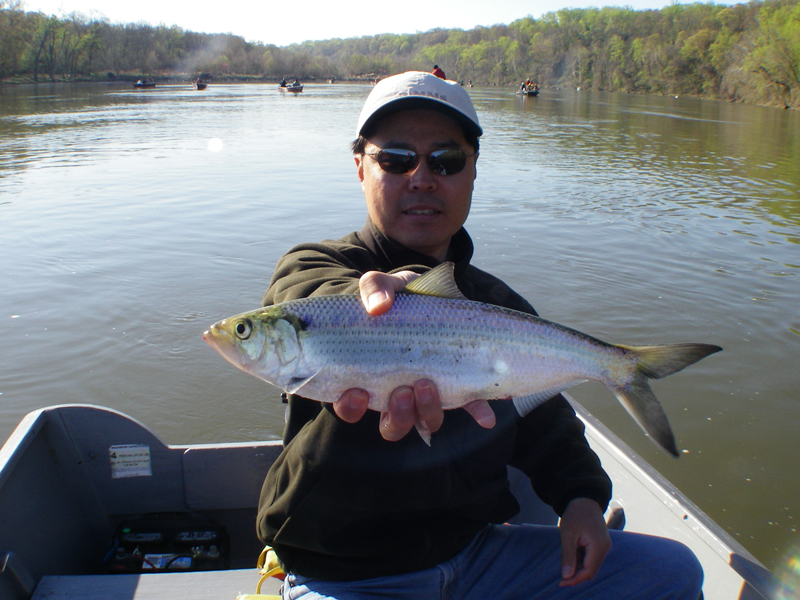 ington to grab a bite of lunch though it was almost time for dinner than lunch.


EQUIPMENT:
We used fast action 5 and 6-weight rods rigged with a 260-grain sink line or a Type VII full sink line.


DIRECTIONS:
Fletcher's Boat House is located on the Potomac River in Washington, DC, two miles North of Key Bridge and one mile South of Chain Bridge, at the intersection of Reservoir Road and Canal Road. You will know you have reached the entrance to Fletcher's when you see the Abner Cloud House, an old white stone building, which is next to the canal.

From 66 East, take the Rosslyn exit to Key Bridge. Stay in the left lane. Take a left onto Canal Road after crossing over Key Bridge. Stay in the left lane and turn left on Canal Road, and continue until you see the Abner Cloud House on your left. That narrow ramp is the entrance to Fletcher's. Go down the ramp and either park in the upper lot or go through the tunnel to the lower parking lot and dock access. During shad season the boat rental office opens at 7am. Boat rental fee is $20 for the day. You need a DC fishing license ($10 DC residents. $13 non-resident) to fish and Fletcher's sells this at the rental kiosk along with fishing equipment, bait, hot dogs, drinks and ice cream.


WARNING FOR WEEKDAYS:
Both lanes of Canal Road become
ONE WAY
into and out of DC during morning and evening rush hour during the weekdays. If you're hitting Fletcher's in the morning and following the route above you have until 5:30am to get there. If you miss this window you must wait until 10:20am. Once it's one way you must come down Canal Road via Chain Bridge and trying to make the turn into Fletcher's from that direction is a killer because that ramp is the only road into and out of the Boathouse parking lot and it faces towards Key Bridge. Canal Road becomes one way going towards Chain Bridge from 2:30 to 7pm, so you have to hang a sharp U-turn when you leave.