Honolulu, Hawaii, December 27, 2008

A report from SteveL
Hey this is getting kind of redundant, but here goes:

It's Saturday morning and we still
didn't have power
, so might as well go fishing.

I joined
SteveT and his girlfriend Henny
. It was overcast and the wind was blowing close to 30 mph at times. After about an hour of that and not catching anything, I headed back in to get my raincoat to stay warm.

SteveT joined me about an hour later after Henny went to take a nap. We headed straight out towards the breaker line to fish an area just inside of the outer reef. SteveT hooked five
Oio
(Hawaiian word for bonefish) and managed to land three. He lost the others in the coral. One fish was huge but it went straight into the reef.

I caught a very large
Mongoose fish
which ended up in my fish bag.

As the afternoon stretched into the evening we started in as I had a dinner to go to - the one that was cancelled the night before because of the power outage. Inside of us was another fly fisher who had followed us out. He had been flailing away after watching Steve T. pull in several fish. I stopped about 40 feet from him to cast and immediately hooked up a three pounder. After
tagging
that fish we continued walking in past the angler. I was about 80 feet on the inside of him when I decided to make one last cast. I get a solid hit and the fish starts to peel line making a short run into my backing. The angler kept looking back at me and was obviously really frustrated now. He moved off to get out of the way. I battled this fish for ten minutes. SteveT helps me net the fish. It measured 22-inches and weighed five pounds.

On Sunday I went out with SteveT again but we didn't do as well. He managed to get a couple of hookups but all I got was another large Mongoose fish and a few other reef dwellers. There were so many people in the water - beach-goers, divers, surfers, fishers – that the fish were probably spooked out of the area. Finally, a bad day of fishing after days of unbelievable action. However we fished into the setting sun - squeezing every bit of daylight out of a fine week of fishing. SteveT heads home on Monday.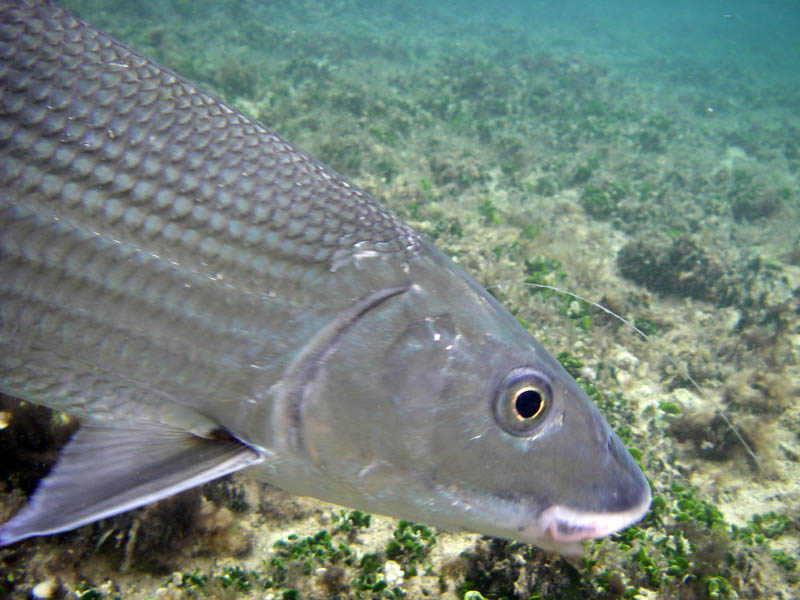 I am off the entire week into the New Year. Guess where I'll be…..

Wishing you and family good health and a prosperous New Year.


EQUIPMENT:
We use 7 to 10-weight rods rigged with floating line and flies from size 2 to 8. You must be able to cast in high wind because it can really blow on the flats. Trade winds can gust from 15-20 mph with some gusts approaching 30 mph. You've got to have the proper equipment and the technical know-how to lay that line out there in high wind.