Washington County, Maryland, December 27, 2008
I had the afternoon free so I decided to try my luck at Antietam Creek. I have not been back since I fished here in
March
when I hit Antietam Creek as well as Lower, Middle and Upper Beaver Creek. During this time there was a crowd of people fishing in the park and pounding the water below the bridge. It's a put and take fishery and the stocking truck had been there a few days ago so everyone was out to get their limit. But today I was interested to see how the fishing was when the pressure was off.

The creek is best known for the historic
Civil War battle
that took place on September 17, 1862, when the armies of the North and South slugged it out from dawn to dusk on a farm field bordering Antietam Creek near the town of Sharpsburg. This bloody encounter produced more than 23,000 casualties on both sides with no clear winner.

As I pulled up to the park there were already two spin fishing anglers lined up on the bank just before the small waterfall so I decided to bypass the park and begin fishing the water below the first bridge. Although people call it the Devil's Backbone Bridge it's real name is
Booth's Mill Bridge
which was originally a covered wood bridge built by John Booth in 1817. The stone bridge that stands here today was started in 1830 and completed in 1833 by Charles Wilson. The real Devil's Backbone Bridge is further down the road and is a one lane wide. It was built in 1824 by Jabez Kenny over Little Beaver Creek.

I geared up and began fishing the deep water under and around the bridge then worked my way downstream for a few hours with no luck, so I reeled up and drove back to the Devils Backbone Park.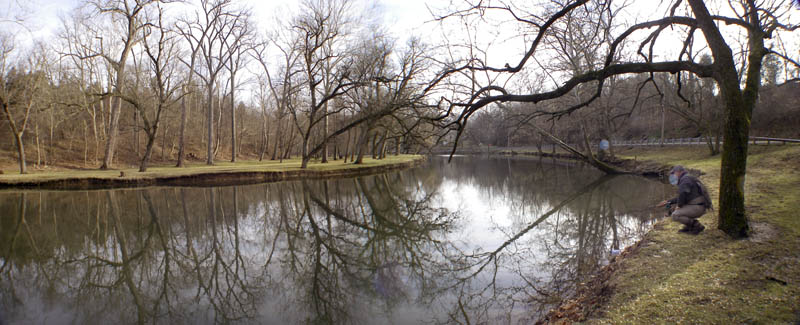 The water looks flat and calm but the water is really moving at a decent clip out in the middle. I cast a size 6 black woolly bugger out there, threw a few
mends
and in no time the line was pulled taut and was pointing downstream. I noticed that it was also pretty deep out there so I beefed up and lengthened the leader to handle a heavily weighted fly. I work downstream towards the small waterfall, fishing the fly around some downed trees and the deep middle section of the creek. While swinging the fly about 100 yards before the waterfall I saw the line suddenly go tight and I hauled back. It felt big and I had something substantial on for a few seconds before it was gone. I fished for another hour but that one hit was it for the day. I had to get back to town so I shortened up the line and dangled the fly around the deadfalls lining the bank on the way back to the car but nobody wanted to play.


EQUIPMENT:
I used a 9' 6" 6-weight rod with a
Rio nymph taper
floating line and an assortment of weighted nymphs. Anything small, black and buggy looking fished deep was working.


DIRECTIONS:
From I-70 heading towards Hagerstown, take the Sharpsburg exit and turn left (note: major outlet mall if you turn right). Continue down Sharpsburg Pike (Route 65) and turn left at Lappan's Crossroads. Drive approximately one and a half miles and the
Devils Backbone Park
will be on your left, but it is closed for the winter. However there's lots of parking just to the right of the main gate. You will also find turn-offs down the road where you can park a car or three. If you continue down Route 65 (Lappans Road) you will go over a two lane stone bridge over Antietam Creek. Another bridge further down the road (single lane) is the point where Lower Beaver Creek empties into Antietam Creek.