Douglaston Salmon Run, Pulaski, New York, October 18-19, 2008

The year is rapidly coming to a close. The morning air is crisp and cool and leaves are turning crimson and gold. This change also means it's time to put away the three and four-weight rods for awhile and break out the heavy artillery. It's steelhead time on the Salmon River.

Jin invited me to fish with guide
Greg Liu
on the
Douglaston Salmon Run
(DSR) located just outside the main town of Pulaski. It was the tail end of
salmon
season and now steelhead were beginning to appear on the river.

The mornings were quite cool and it made you glad that you had that layer of thermals on under the waders. This weather played tricks on you when you stepped into the river. Despite seeing lots of cars in the parking lot, the DSR would look quite empty because the temperature difference formed a thick layer of mist and fog on the water surface. We would be fishing a deep run and at first it would seem like there were only a few anglers around us but as the sun peeked over the tree line and burned the mist away you would find yourself surrounded by 10 to 20 other people.

The weather was beautiful and the water was low (350 cfs) which probably made the fishing tough. According to Jin steelhead love bad weather--rain, snow, ice, a roaring river and plunging temperatures tend to stimulate the fish. We had clear blue skies with no snow or ice anywhere.

We moved up and down the DSR and I got a few subtle takes in the morning but no hookups. Jin had several soft hookups then stuck a steelie that ran back and forth in a large pool until it got close enough for Greg to net it.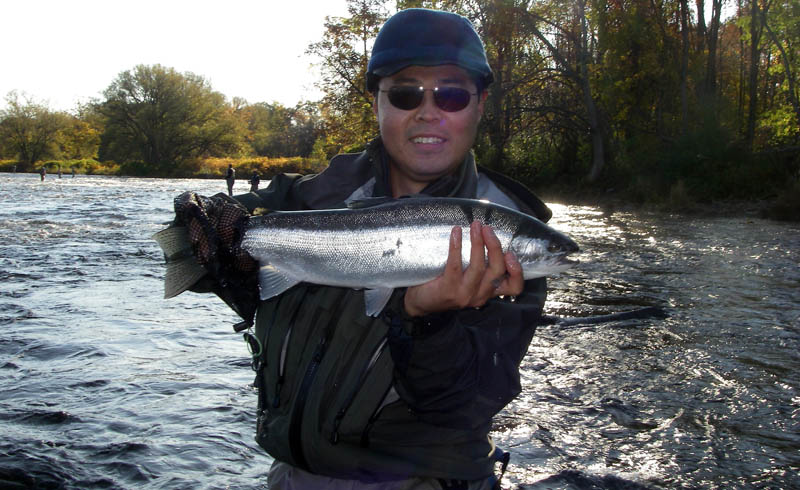 Mine came later in the afternoon. It was a gentle touch at the very end of a long drift. Greg thought this fish was going to take off and pointed to an island in the distance and said that would be my target as we walked down the DSR chasing this fish. However the steelhead cooperated and remained in front of me, running out then back in several times before Greg put the net to him.

We called it a day around 4pm but since there was daylight left and a few hours to kill before we met Greg for dinner at the
Drift Boat Inn
Jin and I decided to fish the
Upper Fly Zone
for a few hours.

There were only a couple of cars there and we quickly made our way down to a favorite spot and began casting. Anglers all around us were hauling in some really ugly salmon but we weren't doing so hot. I did notice that unlike our lines, which were outfitted with indicators and drifted with the current, other folks around us were throwing heavy sinking lines and their lines weren't moving at all. I figured by the splash the lines made that they were throwing a ton of lead shot on their leaders which would explain why the lines remained taunt despite the strong flow. Every once in awhile they would give a strong jerk and a salmon would be on the line.

It started getting dark and I was pretty hungry so we called it a day and got to the restaurant just in time to meet Greg. The meal was excellent and when we got back to the hotel we unloaded the car and used a side entrance to get back to our room. However the pneumatic door closed on the tip of my 9'6" 7-weight (it was in two sections) and suddenly I had a
small piece of my rod
dangling from the fly line. Luckily I had a spare tip section. I always wondered why that
Redington
rod came with two tips.

The following day was a pretty as the first. We followed the same route down the DSR but fished in different locations. Jin tied into a large salmon which was nice and silver, not one of the drab green/black ones. Unfortunately it broke off just before Greg could net it. I had several taps but was too slow on the hookset to get one to stick.

After lunch we moved upriver and fished several deep pockets and Jin tied into a nice big steelie that went airborne several times. That was one angry fish. It pulled line and began to run down river but it broke off before it could be brought to net.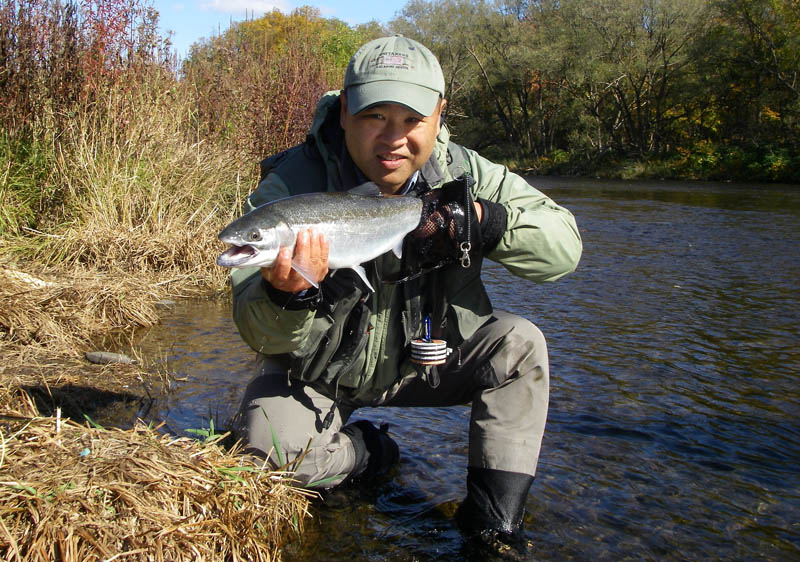 I was fishing a very fast and deep section very close to shore and I got several hits while drifting a bright pink sucker spawn fly on the edge of the drop-off. The hot spot was a strip of very fast moving water just six feet off the tip of the rod so it was a lob shot upstream to get the fly sinking then try to steer the drift so it would fall into that narrow section of water. I figure the strike zone was no more than 8 to 12-inches wide. If your fly fell inside or outside of that area, there would be no hit. I threw a lot of casts and got three grabs and two definite 'fish on' hits but none of them stuck. I sucked.

There are a couple of things I have learned from fishing the Salmon River. The first is the water is often deeper than it looks. To my untrained saltwater/ocean fishing eyes, some of the spots we fished looked way too shallow to have ANY fish holding there but up pop steelhead and salmon. Another is the speed of the water. How can any fish possibly hang out in that fast water? They're on the bottom, behind rocks that break the current. You need to get that fly down and deep if you expect to catch those fish. And rocks with the algae rubbed clean and scarred by spikes near deep, fast water are usually a good place to stand and fish. Finally--pneumatic doors suck. Always take down your rod completely and store it in a tube before walking back to your hotel room.

DIRECTIONS:
From Virginia just follow I-81 and it's a seven hour drive north to Pulaski, N.Y., which is about 30 minutes outside of Syracuse.


EQUIPMENT:
We used 7 and 9 weight fly rods (regular, switch and spey) with special weight-forward steelhead/salmon lines, heavy leaders with large indicators and lead shot to get the fly down deep. If you forget anything or experience an equipment malfunction there's always
Whitakers
fly shop.