Off the Waianae Coast, Honolulu, Hawaii, July 10, 2008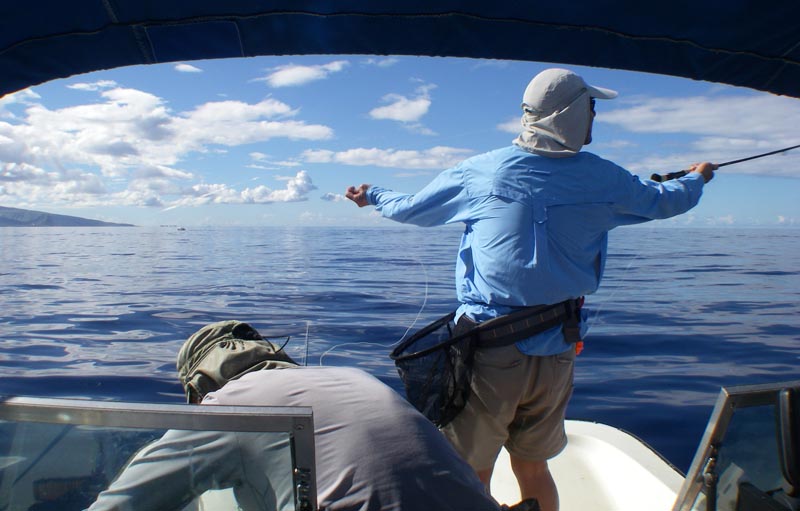 I was lucky to be invited to fish with
Dean
on his boat with SteveL and SteveT as they went for tuna at the
fish aggregation devices
off the Waianae coast. We were taking along fly rods for a possible shot at breaking tuna, but the goal of the trip was to put fish in the cooler. The thought of fresh aku (skipjack tuna)
poke
drifted in and out of my mind as we met Dean at 3am and headed for the small boat harbor on the Waianae Coast.

The weather and ocean conditions couldn't have been more perfect. Little or no wind and a calm sea. We made good time out to the first fish device and SteveL had the outriggers and various plastic baits out and running behind the boat. There were several other vessels fishing this area and we joined in the hunt. After several circuits around the buoys, Dean spotted targets hanging about 80 feet down and decided to switch from trolling to dropping bait and jigging for hits. This turned out to be a great call because as soon as the first rod was set into the holder, there was a hit and a fish was on.
It was quickly brought boatside and thrown into the cooler.

We repeated this procedure for the next few hours and landed another tuna. I had a strike but it hit short and I wound up with half a bait. Smaller tuna began breaking the surface and SteveT was in the bow with a 10-weight rigged with a baitfish pattern. He got of a few casts and hooked up with a tuna but it got off as he was clearing line.

Fishing began to turn off as the day progressed so we decided to try to catch live bait inshore then return to the buoys. We anchored in an area that we used to scuba dive back in the "old days" and began to catch small bait, which we live-lined off the large reels hoping something big would take the hard-swimming fish. However we were having so much fun catching the smaller fish that the day was soon over and we had to get back to the harbor before it got too dark. The tally for the day wasn't bad--two tuna and some good times on the water.


EQUIPMENT:
Blue water trolling rods and reels outfitted with hundreds of yards of high test mono line. Hard and soft plastic baits. Heavy fly rods and reels from 10 to 12-weight. Baitfish. Food. Snacks. Soda. Beer.