Washington County, Maryland, March 1, 2008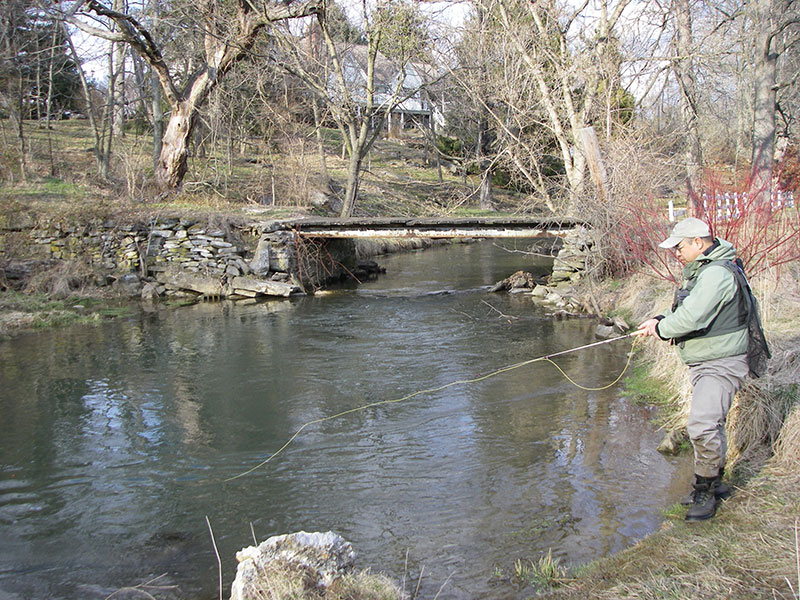 Trying my luck for any large fish lurking under the bridge. An angler fishing here earlier missed a very large rainbow that hit a size 20 brassie.
It was late in the afternoon when I stopped at the Upper fly fishing zone at Beaver Creek. The first thing I noticed was the stream improvements added to this stretch of water since last year. The local Trout Unlimited people had been busy landscaping and streamscaping. There are more tree plantings and both hard and soft landscaping along the banks. More large boulders have been added to the stream, creating riffles and runs where none had existed last year. I also noticed that there was a bunch of fly fishermen in front of me.

I began working the water just past the first crossing. I started out nymphing around a downed tree that spanned the creek but after a few drifts I switched to a size 18 parachute when a trout hit the indicator. I really suck. I missed two hits by yanking the fly out of the fish's mouth! After a while they got tired of playing with me and went away so I began working my way downstream as the sun began to set.

I fished for another hour and spoke to the other anglers as they were leaving the water. They didn't have much luck, only going as far as the second small footbridge downstream. The only action they had was when one of them dredged a small brassie under the first bridge and a large rainbow took the fly but broke him off on the rocks downstream.


EQUIPMENT:
I used a 8-feet long 3-weight rod with a floating dual taper line and an assortment of small dries and nymphs in size 18 to 22.


DIRECTIONS:
From I-70 heading towards Hagerstown, take Exit 66 (Boonsboro) and turn left at bottom of ramp onto Mapleville Road (66). Continue down the road and turn right onto Beaver Creek Road, it's a very small street sign as you enter a residential area so slow down and look carefully. Make a right turn at Beaver Creek Church Rd., follow the narrow road that will bear right across a one-lane bridge. Turn left and 100 yards up the road on your right will be the flyfishing parking lot. Gear up, cross the road, unchain the gate to enter and please replace the chain on the gate when you pass through. Respect the private property signs and please don't stomp on any new stream planting.